Archived News Item
Visit to Parliament
March 28, 2014
On 24-25 March, the Australian Response to Climate Change (ARRCC) organised visits by 25 of its members to Senators and members of the House of Representatives. Four of these participants were Sisters of Mercy. In groups of four, we visited approximately eight politicians each, quite an undertaking.

Initially we articulated what we felt we brought to the dialogue that was different from any other NGOs. Fortunately in my group we had representatives from Hindu and Islamic faiths as well as Christians, so we were able to indicate that our concerns about climate change were shared across faith traditions. The politicians had been briefed with an open letter from faith leaders, which read as follows:
Religious leaders urge climate responsibility
As religious leaders drawn from diverse religious traditions, we acknowledge our human responsibility to care for the Earth. We accept the ever stronger consensus among scientific bodies, international institutions and global civil society that climate change is threatening the ecosystems upon which life depends.
All our religious traditions uphold the moral demand to act for the common good. To seek maximum individual or national advantage in the face of global warming is to increase the costs to those least advantaged in the human family as well as today's young people.
We hold therefore that climate change is a moral issue. Australia's addiction to fossil fuels, both for domestic consumption and export earnings, is no longer morally justified and must be wound back as soon as possible. It makes no ethical, or even economic, sense to move only if others do.
This is a unique point in history when it is still possible to minimize climate disruption.
We therefore call on all Australians to conserve energy and take up green energy options wherever possible. We call on investors to divest from fossil fuels and re-invest in socially responsible alternatives.
We call on the Government to retain existing legislation which is assisting the transition to a low carbon economy. We must do our fair share globally by setting ambitious targets, both for reducing emissions and our use of renewable energy, and by contributing far greater amounts to adaptation financing for developing countries.
If we take responsible and effective action without delay, another future is still possible. The choice, and the responsibility, is ours.
Link: http://www.arrcc.org.au/open-letter-prominent-religious-leaders#sthash.ZYn3tVIT.dpuf
Generally we were well received, although there were a few exceptions. There is no way of knowing the impact of our visits and the interfaith prayer vigil held outside Mineral's House. There were suggestions about how we could continue our efforts, especially in the period before 1 July when the composition of the Senate changes. One Independent who was fully supportive of our values compared the process to that of finding the acupressure point that could affect the health of the whole organism.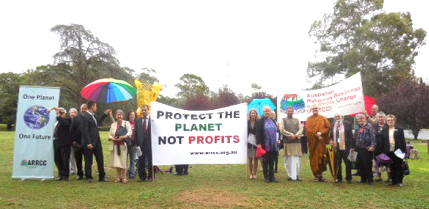 You could contribute to this process. Politicians are accountable to their constituents. You could contact your local member and indicate the nature of and reasons for your concern. You could take a copy of the open letter and these "asks" which we used during our conversations:
1)Make ongoing substantial contributions to adaptation financing for developing countries
2)Rapidly phase out the mining and export of coal and other fossil fuels
3)Set ambitious targets for reducing emissions in international negotiations: 40% below 1990 levels by 2020
4)Set a far higher Renewable Energy Target than 20% by 2020
5)Retain existing legislation, or at least not replace it until a credible alternative is devised to transition the economy from high-polluting energy sources to clean, renewable energy
6)Retain the Climate Change Authority as an independent adviser.
See more at: http://www.arrcc.org.au/background-for-media-prayer-vigil-minerals-council#sthash.FIrls1tA.dpuf
It is imperative that we work together for the wellbeing of Planet Earth and its creatures (including us) in the face of degradation caused by industrial by-products.
Messages to: Mary Tinney rsm