Archived News Item
VIRTUAL REALITY TRAVELLERS
August 26, 2016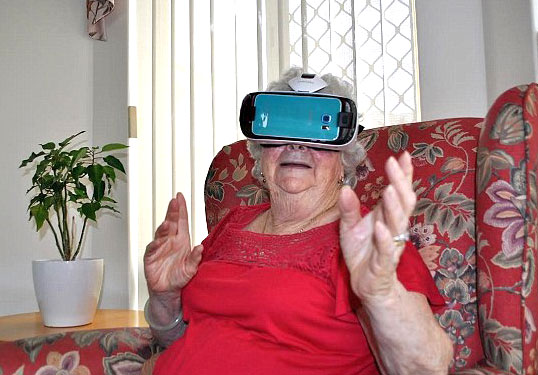 Mercy Health has 22 residential aged care homes across Victoria, New South Wales, Queensland and Western Australia, providing compassionate care to more than 1,800 people every day. All 22 aged care homes across Australia have recently benefited from the roll out of virtual reality glasses.  The 3D glasses not only provide entertainment but also stimulate reminiscence and conversations with residents who otherwise might have trouble communicating.
There is great excitement and many benefits for the residents who can use virtual reality glasses to travel to exotic places like Africa and Venice.
Mercy Health Group Chief Executive Officer Adjunct Professor Stephen Cornelissen this is just one of the ways Mercy Health is helping residents stay socially connected and engaged. "Our person centred model of care means we are constantly looking at new ways to support, stimulate and empower our residents," Adjunct Professor Cornelissen said. "At all of our homes we ensure residents have a wide variety of activities and a range of support, so they can continue to enjoy life to the fullest."
Messages to : Kasey McCulloch Media Officer Mercy Health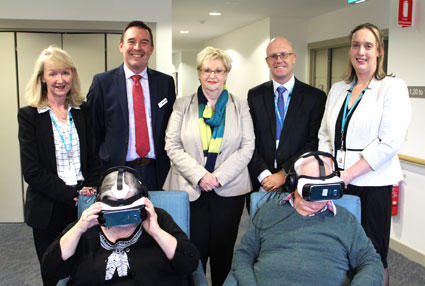 Back row from L-R: Maryann McCusker, Mercy Place Parkville Acting Manager, Stephen Cornelissen, Mercy Health Chief Executive Officer, Senator Helen Polley, Shadow Assistant Minister for Ageing, Kevin Mercer, Mercy Health Chief Executive Aged and Community Care, Karren Gooding, Mercy Health Lifestyle and Volunteer Manager. Front row from L-R: Mercy Place Parkville residents Gail Quirk and Ermanno Vucci.
Links:
http://www.mercyhealth.com.au
http://www.australianageingagenda.com.au/2015/08/31/virtual-reality-opening-up-new-possibilities-for-residents-in-aged-care/