Archived News Item
VIRIDITAS – Contemporary Art Studio
December 15, 2014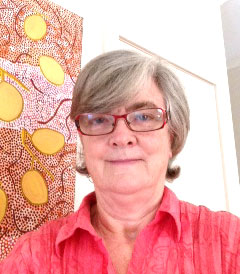 In 2013 I received a letter from the ISMAPNG Leadership Team informing me that the Art Ministry I have been engaged in during these past years was now officially under the umbrella of the newly established McAuley Ministries. Then, on April 18th, 2014 I received a letter from ASIC (Australian Securities and Investment Commission) saying: "Congratulations! The business name 'Viriditas Contemporary Art Studio' is now registered to McAuley Ministries Limited."
It was perfect timing and the word 'congratulations' seemed a fitting seal to a discernment process that has now taken me on this new path involving art and creativity. After 40 years of teaching and facilitating various kinds of learning through education and art and at sixty seven years of age, it is time to venture into full-time studio art-practice under the title of 'Viriditas Contemporary Art Studio'.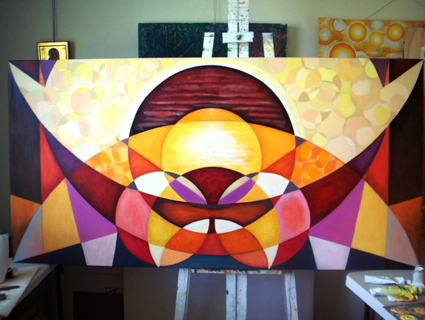 Why the name Viriditas? ' Viriditas' is a Latin term, a concept devised by Hildegard of Bingen which describes the' greening power of Life- God in all its fullness. "I have come that you may have life…('Viriditas – vitality, lushness, goodness, beauty and renewal..) and have it abundantly. John:10.10.
I believe that 'Viriditas' is an invitation to full participation in the life-evolving beatitudes of mercy, love, compassion, reconciliation, healing, conversion and transformation. Matthew Fox talks about Viriditas as 'waking up the world'. Pope Francis has called for 'consecrated women and men' to also 'wake up the world and to be witnesses of a different way of doing things, of acting, of living.'(Comments made by Pontiff to Leaders of Religious Orders in November, published by Jesuit Journal). Viriditas calls forth a new life.
The word 'contemporary' is also important because life is connected to the 'now' which is evolving into the future. It is important to be fully present, in the now, to the actions and movements of this life-force which is enabling growth, freshness and new visions.
At present, I work from home, in a studio space doing commissions and other works which will become part of an exhibition in 2015. With the help of Fraynework I am working to set up a website that lets people know about the new Viriditas Contemporary Art Studio, with art works, Icons and other material productions for sale. Through social media: Facebook and a Blog Page, I hope to maintain connections with other Mercy Artists as well as engagement with the following:
Sacred Murals Studio – Philip Davydov (Director) St. Petersburg, Russia.
'Scivias' Institute of Art and Spirituality, Dr. Annette Esser, Germany.
School of Religion and Philosophy – Dr Natalia Pecherskaya (Rector) St. Petersburg, Russia.
ACU Fitzroy Campus, Visual Arts Department – Dr Catherine Bell (Head of Department)
Indigenous Artists and Local Communities.
I am very grateful to all who have been a part of this journey into Art, for your support and encouragement. I would like to conclude with one of Hildegard's Prayers: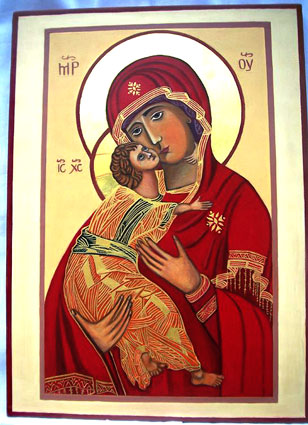 O Viridissima Virga
Hail O greenest branch,
You who came forth in the windy blast
of the questioning of saints.
When the time came
that you bloomed in your branches –
hail, hail (was the word) to you!
For the warmth of the sun distilled in you.
For in you blossomed the beautiful flower
that gave fragrance
to all the spices
dry though they were.
And they all appeared in full virtue.
(Barbara Newman trans. in Jane Bobko, 'Vision the Life and Music of Hildegard Von Bingen', p.88-89)
Messages to: Margaret Broadbent rsm