Archived News Item
Unforgettable Voices: Australia We Are Here Book Launch
June 29, 2011
"Cases are human beings, not commodities."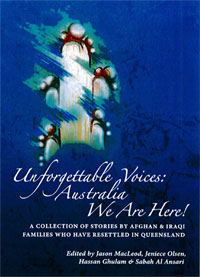 The book, Unforgettable Voices: Australia We are Here, was launched on Thursday 16th June at Parliament House in Brisbane.

Talented singer/song writer, Ros Papalardo opened the gathering with the song, "Gather Me", written after discussion and workshopping with refugee peoples. Later in the program she shared how the experience had transformed and humbled her.
Romero Centre coordinator, Faiza El-Higzi, welcomed everyone and introduced Executive Director of Mercy Family Services (MFS), Steven King.
Steven welcomed the Sisters of Mercy, partners in ministry, MFS and Romero staff, Afghan and Iraqi communities and acknowledged the mission of 150 years of the Sisters of Mercy in Brisbane and particularly the Peace Centre in Goodna set up in the 1960s. He said the book was a great initiative moving into the future.
Project Coordinator and Activist, Jason McLeod, explained some of the images created by refugees and migrants associated with the centre and how Faiza and Jeneice Olsen brought the book safely into port. Special thanks were given to Sr Mary Lowcock for her support and trust of the process. Jason also explained the development of narrative practice which decentres stress and focuses on skills, knowledge and resilience.
Thanks also were given to the participants and Jason invited team members to speak about how the stories were gathered. Jeneice recalled visits to communities, cultural camps and learning form.
Fas talked about freestyling techniques as the event changed tack. Participants shared their stories, stories that carried belief, heritage, connection, harmony and courage and how we can disarm racism. Stories of pregnancy in a new land, being sent back, and not being able to use your own name for 20 years for fear your family would be harmed overseas. Stories of people who loved their country but their country did not love them. Sabah Al Ansari reminded us that, "Cases are human beings, not commodities."
One story powerfully pointed out the difficult circumstances people were forced into. "When I started I was given a gun with sixty bullets. When the war was over I returned the gun with sixty bullets. Using the pen is the weapon of justice".
Jason invited people present to provide feedback after hearing the stories. One person commented how invincible the human spirit is in the face of tragedy and how fortunate we are in Australia to grow up in a land where we can share our compassion with our courageous refugee peoples who are our teachers and lovers of freedom
Sr Margaret King was invited to launch the book and shared her heartfelt respect for the stories and their impact on all present.
Faiza thanked all for coming and reminded people that the Romero Centre is not about dwelling on tragedy, but about celebrating resilience, beauty and endurance. Faiza concluded that parliament house was the ideal place to launch the book, "The House of people was a true reflection of democracy".
Angela Lane
Administration Officer – Communications
Sisters of Mercy Brisbane Congregation
Phone: 3368 5627
Fax: 3368 5696
Email: alane@sombris.org.au
SISTERS OF MERCY BRISBANE CONGREGATION HAS A NEW POSTAL ADDRESS
Our contact details remain unchanged.
Our new postal address is:
PO Box 287, TOOWONG DC QLD 4066