Archived News Item
TWO YOUNG WOMEN RECEIVE MERCY BEQUESTS
June 1, 2015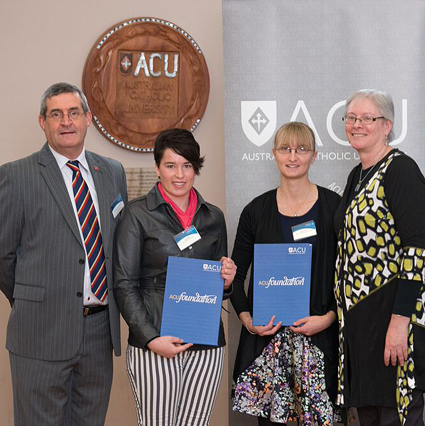 A recent Awards Ceremony at the Aquinas Ballarat campus of Australian Catholic University was the opportunity to present the Sisters of Mercy Prize. This is an annual award from the Dorothy Griffin Bequest, made possible by the generosity of Dorothy Griffin nee Healy, an old Collegian of the former Sacred Heart College, Ballarat East.

This year the prize was awarded to Verity Watt, a student from the Terang parish who is studying nursing and paramedics. All the applicants were of a high standard but Verity, who had been Social Justice Captain of Mercy Regional College, Camperdown stood out particularly through her initiative of organising an event for young people to raise awareness of mental health matters.
In regard to this, Verity said:
I have a concern for the stigma that surrounds youth mental health in our community. With that in mind I initiated 'Open Minds'. 'Open Minds' is a youth run, led and organised event that has an aim of removing the stigma that surrounds mental health. With a focus on youth mental health the first 'Open Minds' music event was held on January 23rd 2015 in Port Campbell, Victoria. The event promoted the importance of staying mentally healthy and seeking help. After creating a safe space 'Open Minds' highlighted the fact that it is okay to talk about your mental health and emphasised that dealing with mental health challenges should not be a source of shame. The event also gave young local music artists the opportunity to exhibit their talent!
This year it was also possible to give a second award – a 'one-off' grant to assist a student. This student was Zoey Torney from St Arnaud who is also studying nursing and paramedics and will use the grant to fund her field trip to Cambodia.
We were proud to be able to assist two fine young women in their studies, knowing that they have been and are keen to promote Mercy values, those same values which inspired Dorothy Griffin when she was being educated so many years ago.
Messages to: Berenice Kerr rsm
Photo L-R: Associate Professor Joe Fleming (Dean – ACU Ballarat), Verity Watt, Zoey Torney, Dr Elizabeth Dowling rsm.