Archived News Item
TWO ARTISTS IN MERCY
February 8, 2016
The atmosphere in the iconography painting studio is studied silence; each artist bends forward over their work with concentration, no one chats. The only sounds are of occasional frustrated sighs, the fervent grinding of pure pigments or the patient instruction being given by the master icon painters to a pupil who has strayed off the path. Lines are drawn on the page only to be rubbed off and started again, paint brushes are put down only to attend more lectures on the history of icons or for the much needed lunch break, as there is no time for tea breaks and chats in this studio. The goal has been described, the steps and lessons are ongoing, the challenges are great and time is ticking on.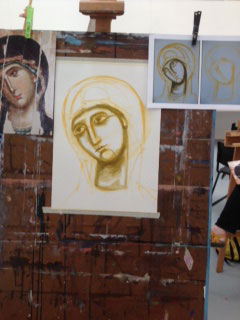 In January 2016 two people from McAuley Ministries, Margaret Broadbent rsm of Veriditas Art and Annie Q. Medley of the Mercy Heritage Centre Perth, who are also artists in their own right in Perth and Melbourne, were able to meet at the Australian Catholic University of Victoria to continue their joint love for art. Forming a common bond through this prayerful and instructive process of iconography, they joined with other students for five days of instruction from icon masters Philip Davydov and Olga Shalamova from Sacred Mural Studios, St Petersburg, Russia. These master icon painters regularly come to Melbourne each January to run courses and impart their knowledge to a small sub-set of dedicated artists.

This year the task was to learn two different techniques of face painting copying from old masters works. One concentrated on the use of stylised line and shadow, the second on building form through layers of transparent glazes of light on dark.
Icon painting unlike many other artistic expressions requires the artist to set aside their personal style and work within the guidelines of iconography. Icons are appreciated for the spiritual contemplation they offer the viewer; they are prized for the inner connection to prayer they can create. These courses are conducted with the highest respect for the tradition of icon painting.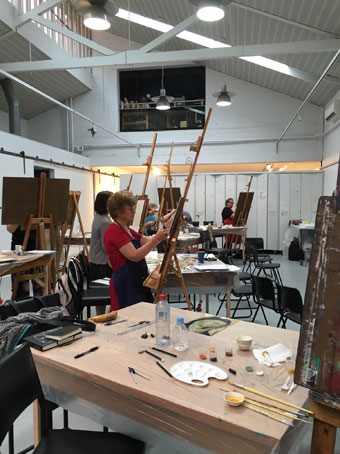 Catherine McAuley writing in 1841 of the amount of time artist Clare Augustine Moore spent on her artworks stated "She will show me three leaves, saying , I finished these today – 3 rose or lilly leaves" Each icon student present could have related to Clare's obsession to do each step perfectly before moving on to the next.

This course was a great opportunity for each student of iconography to learn new skills in this ancient art form. But more importantly it allowed the two artists to share their common interest in their work for McAuley Ministries and discuss the paths they are on in their individual journeys in this Year of Mercy.
_______________________________________________________________
Annie Q. Medley is Curator of Cultural Collections at the Mercy Heritage Centre Perth and can be contacted HERE
Sr Margaret Broadbent's website can at found HERE and an interview on her iconography practice can be viewed on YouTube HERE