Archived News Item
Tungamah scores a winner with a fun activity day
June 22, 2012
Not many people will have heard of Tungamah in Victoria.
It's a small town with a population of 350, but with a massive amount of generosity. The owner of the Tungamah Hotel, Peter Chisnall used to be a top AFL player. He has strong Mercy connections – it was a Sister of Mercy who first taught him to play footie!
Peter decided to organise a fund raising event in Tungamah for Mercy Works in January this year. It seems like the whole town and the district came to the party, as well as a whole busload of Sisters of Mercy from Melbourne.
Help and enthusiasm came from every quarter:
the local Lions club ran a sausage sizzle
women from the local church did face painting
two sisters Moira Sheedy and Maureen Laughry, well-known Melbourne artists, donated paintings
and a local bike restorer donated several bikes for the auction.
In all Peter, his friends and neighbours raised an amazing $5,000. It was a huge success, one that Peter plans to do again in future. He also hopes other country towns in Victoria could run their own version of the day.
Our thanks go to Peter and the amazing generous people of Tungamah and the surrounding country.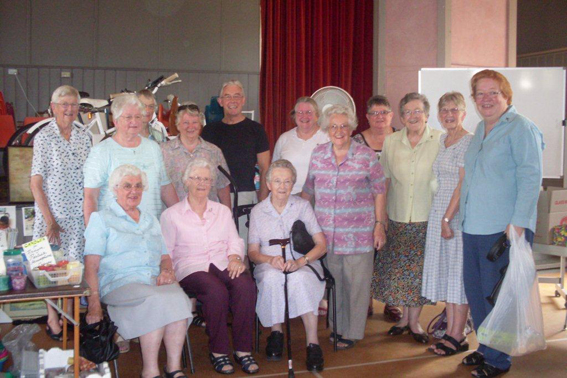 Peter Chisnall with some of the Sisters of Mercy.