Archived News Item
Travelling exhibition highlights MDGs
December 22, 2009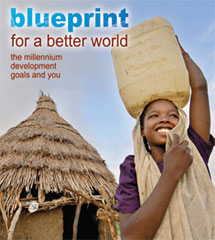 Did you know that two-thirds of the world's population lives in hunger, poverty and disadvantage, and that our planet is threatened as never before with mass destruction of all its life-forms? Learn more about these devastating facts through a travelling multimedia exhibition called "Blueprint for a Better World".
"Blueprint for a Better World" is a travelling multimedia exhibition developed by Caritas Australia in partnership with the Australian Government's aid agency AusAID, which gives a practical face to the eight Millennium Development Goals (MDGs).
Developed in 2001, the Millennium Development Goals, an international agreement of 190 nations, including Australia, is a set of time-bound and measurable goals and targets to address the most serious global issues.
The United Nations Millennium Development Goals:
Goal 1: Eradicate extreme poverty and hunger
Goal 2: Achieve universal primary education
Goal 3: Promote gender equality and empower women
Goal 4: Reduce child mortality
Goal 5: Improve maternal health
Goal 6: Combat HIV-AIDS, malaria and other diseases
Goal 7: Ensure environmental sustainability
Goal 8: Develop a global partnership for development
The Challenge
The exhibition also presents a challenge and a call for action at all levels. If the Millennium Development Goals are to be achieved, it is not just government initiative that is required. A commitment from the public and within the heart of individual Australians is also needed.
"Blueprint for a Better World" is travelling around Australia in 35 locations over 18 months. The exhibition commenced in February 2009 in Brisbane. See venue details for 2010 dates here.
Contact: Carmel Heagerty RSM, Institute Justice Co-ordinator
Email: Institute.Justice@mercy.org.au