Archived News Item
Transforming People and Communities
December 15, 2014
The Urban Ministry Movement-Sydney provides a place where people can take the time to reflect on their own personal journey in their workplace in relationship with others, and the issues affecting their world. It offers the "Pastoral Practice in Diverse Contexts: Transforming Peoples and Communities" programme.
The participants in the programme were either training for ministry or already ordained in both the Catholic Church and the Uniting Church of Australia. This programme is ecumenical and is for people to either prepare for ministry or to take time out to reflect on their present ministry practice. The programme is based around our charism of Mercy and Justice. Reflecting on present pastoral encounters and putting them in the wider social context of our world and our own religious traditions.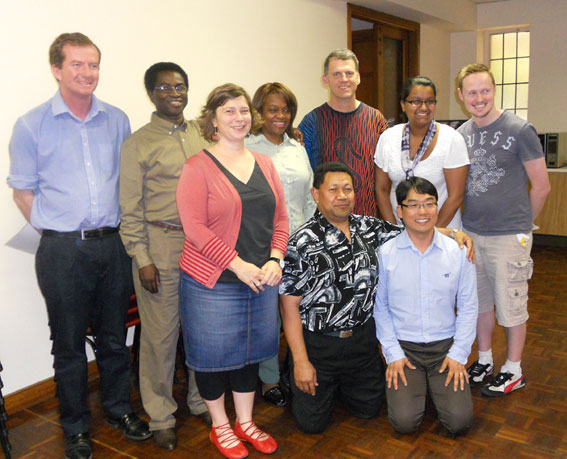 As you see we had participants from varying backgrounds – Australian, African American, Sri Lankan, Korean, Tongan and Ghanaian. During the programme they all worked in varying placements for 110 hours as well as attending course work and individual supervision. Participants choose various placements depending on the ministry they may move into in the future. We had participants at Westmead and Royal Prince Alfred Hospital. The participant at Royal Prince Alfred Hospital is in training to be a Navy Chaplain and needed experience in pastorally sitting beside people. One participant is a prison Chaplain, another a Uniting Church minister in a Uniting Church congregation and another participant worked as a pastoral presence in two school settings. One was at the Exodus Foundation at Ashfield and another training as a Uniting Church Minister of the Word in a Uniting Church setting.
It was a very rich, vibrant and talented group. They all came with the desire to reflect on their present ministry practice and enhance their skills.
To assist me I had a wonderful co-supervisor Rev. Mary Pearson and a Pastoral Supervisor in training from the Baptist tradition.
If anyone could like to know more about this programme or our programme of training Pastoral Supervisors through Transforming Practices Inc. please go to the website www.ummsydney.com.au or www.transformingpractices.com.au.

Messages to: Eveline Crotty rsm