Archived News Item
Training teachers differently in Pakistan
August 7, 2008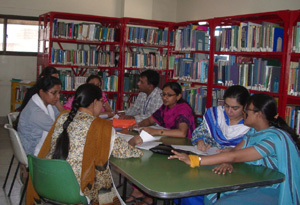 Over the past 17 years, the Notre Dame Institute of Education (NDIE) in Karachi has built a reputation as the number one teacher education facility in Pakistan. Sister of Mercy Margaret Madden, NDIE's Director, says that students come because they want to learn how to teach differently. A crucial part of this process is using a rare resource in Pakistan's schools – a library. In 2008, Mercy Works is supporting the development of NDIE's library. Margaret reports on the difference that NDIE is making in Pakistan.
So often good events happen because someone dares to dream how something could be different and then finds a way of bringing that dream to a reality. Such was the beginning of NDIE.
The dreamer, Reverend Anthony Lobo – a teacher, school principal, university lecturer and writer long before becoming a Catholic Bishop in Karachi – was not unique in recognising that if the quality of education in Pakistan was ever going to improve, something had to be done to improve teacher education and training. Bishop Lobo searched the world to find someone who would help make the dream a reality. Australian Sisters of Mercy were the people he found.
NDIE opened its doors in 1991 with 17 students in the Bachelor of Education programme. Now, average annual enrolments in the Bachelor of Education course are 55 and 30 in the Masters of Education.
NDIE, the only Catholic Tertiary Institution in Pakistan, is located on the campus of St Patrick's High School in Karachi, a massive city with a population upwards of 20 million. While there are areas of palatial housing, the vast majority of people live below the poverty line in basti or slum areas.
One of the Institute's unique features is that its students come from every part of the country. It caters for people of all faiths and backgrounds, but most are from religious minority and economically disadvantaged groups. A sizeable number, especially women, are the first in their families to receive education. Less than one per cent speak English as their first language, so to be studying their professional degree in English is an enormous accomplishment.
NDIE graduates are spread throughout Pakistan. The locations and conditions where they teach reflect the situation of the country – from the poorest and isolated schools, to positions of high responsibility of leadership in educational systems.
Students are introduced to a new approach to learning when they arrive at NDIE, methods that are taken for granted in Australian schools. In Pakistan, the overwhelming majority of children are taught using poor quality text books and rote learning of information. In this way, students can complete a university education without ever using a library. To have a library in a school is a very rare experience in Pakistan.
At NDIE, students are guided in their learning, encouraged to discover information for themselves, apply information and formulate their own knowledge. NDIE students need to experience for themselves and be taught how to create classrooms as places that are student-centred and have a more open learning environment. During this process, they discover for the first time the role of the library as an important part of learning.
NDIE's library is named in honour of its founding director, Sister Gabrielle Jennings. It contains about 30,000 volumes but many are long outdated. The original library came from the Australian Catholic University and Mercy schools across Victoria, and comprised volumes no longer needed or in use at these institutions.
Each year the NDIE library grows but only minimally since funds are limited. It caters mainly for teacher education students and NDIE lecturers and teachers but also for teachers from surrounding schools.
Remarkably, it is the only such library in Karachi. Making the library accessible to others is another way NDIE is trying to help teachers to increase their own knowledge and bring changes to what they do in the classroom.
Would you like to partner with Mercy Works Inc. to assist young women and men in Pakistan to be trained as creative and resourceful teachers? Find out more.