Archived News Item
Townsville Diamond Jubilee Celebrations
July 31, 2018
On Wednesday June27, seven Sisters celebrated their Diamond Jubilee in Townsville. Sisters Anita Ready RSM, Mary Philomena Lowth RSM, Marie Therese Langan RSM, Regina O'Riordan RSM, Josephine Martyn RSM, Paul Mary Hindom RSM and Nina Barra RSM made their first Religious Profession in Townsville in 1958.
The Sisters celebrated their Jubilee with a Mass in St Joseph's Church Fryer Street North Ward, with Bishop Tim Harris as the Presider.  Several other Priests were also present, along with Sisters of Mercy from across the Institute of Sisters of Mercy of Australia and Papua New Guinea, family members and friends of the Jubilarians, as well as many people from a number of Parishes across Townsville. Sisters Gaye Lennon RSM and Elizabeth Moloney RSM from the Insitute Leadership Team and Helen White RSM, the Northern Community Leader, were also present. During the Last 60 years these Sisters have come to know and be known, and loved, by many across the Diocese.
Following the Mass, guests joined the Sisters of Mercy for refreshments in the Café by the Sea at St Patrick's College, The Strand. This was a very joyful time and provided the opportunity for the Jubilarians to 'catch up' with everyone present.  During this time there was the cutting of the Jubilee cake and a toast to these seven Sisters – a toast well deserved and in recognition of the 60 years of service given by Sisters Anita, Philomena, Marie Therese, Regina, Josephine, Paul Mary and Nina.
Each of these Sisters, for the last 60 years, has been committed to living as a Sister of Mercy.  They each listened to the call of God to be a Sister of Mercy and responded to this call. They have shown perseverance through the good and the not so good times. It is their love of God that has sustained them during this time. When they joined the Sisters of Mercy it was to give 'their all' to what was being asked of them. As is the case in a response to all Vocations, prayer and reflection are important.  It is necessary to have a deep love of God, his people and all of creation. Living in community also requires understanding and acceptance of those with whom one lives and often patience with the differences. Each of these Sisters has dedicated their life to serving others through her ministry and other areas of the Church and local community where she lived. Between them these Sisters have ministered in primary and secondary education, nursing, pastoral care and hospital chaplaincy, visitation and other areas of need within the Townsville Diocese and beyond including Papua New Guinea.
Sister Anita Ready in a speech she prepared and presented on behalf of the Jubilarians said:
"There is a passage in the Old Testament which has always held special significance for me: God speaks to the Israelites in the desert. 'Do not be afraid. Yahweh your God goes in front of you and will be fighting on your side. In the wilderness you saw Him, how He carried you as a father carries a child all along the road you are travelling to this place.'.
The passage speaks to me of our journey, not of forty years, but of sixty years since we made our profession of vows. The journey has had its ups and downs, its graces and blessings always accompanied by our God carrying us tenderly, picking us up when we failed and blessing us abundantly for our efforts.
Our mission assigned to us has taken each of us in different directions in our vow of service to those in need: some teachers, some nurses, others pastoral workers, some missionaries to other shores, but always with the ideal in mind of following in the footsteps of our founding Mother, Catherine McAuley.
We may have collected a few aches and pains and added years on the way, a plethora of white hair and obvious signs of growing more mature are evident, but our spirit remains burning as brightly as it can, to our day's end. However, we do not undertake this journey with just ourselves and God. There have been many people who have accompanied us and enabled our mission, and to all of them we express our thankfulness for your presence in our lives".
Congratulations Sisters and thank you for your many years of dedicated service.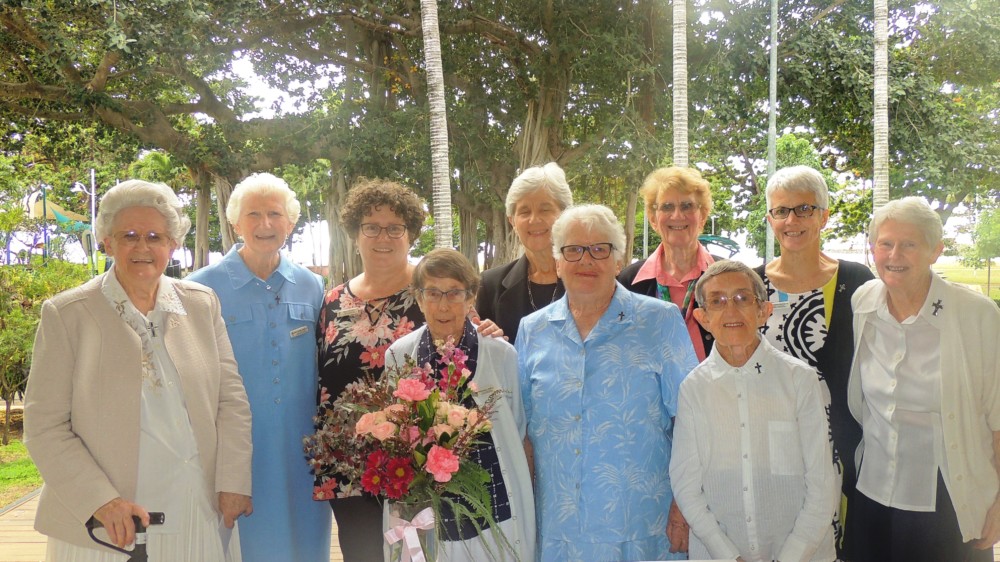 L-R: Anita Ready RSM, Marie Therese Langan RSM, Gaye Lennon RSM, Mary Philomena Lowth RSM, Helen White RSM, Josephine Martyn RSM, Nina Barra RSM, Regina O'Riordan RSM, Elizabeth Moloney RSM, Paul Mary Hindom RSM.
Messages to: Beverley Strong RSM
We would love to feature this year other Jubilees across the Institute, please email your photos to communication@ismapng.org.au