Archived News Item
Together we are making a difference
October 30, 2010
It's easy to feel overwhelmed by global poverty and injustice and succumb to thinking "What difference can I make?" We at Mercy Works Inc. are inspired by the many schools and community groups across Australia who are making a difference. Here are a few examples.
Dawdling for Datorua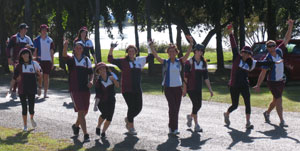 Congratulations to the students of McAuley Catholic College in Grafton, NSW, who raised $10,000 to help Mercy Works Inc. build the Mercedes Early Childhood Learning Centre in Datorua, Timor Leste.
According to Margaret Bertalli, Ministry Co-ordinator at the College, the project really struck a chord with the students, even the Year 9 boys! Funds were raised through a number of activities, the main one being a walkathon called "Dawdling for Datorua".
The local community also supported the students' efforts by sponsoring them and providing a BBQ lunch at the end of the walk.
"Project Yarapossible"
All Hallows' School students in Brisbane raised more than $20,000 this year to help Mercy Works Inc. build a new health clinic for 600-plus students at Mercy Secondary School, a boarding facility at Yarapos, in Papua New Guinea's East Sepik Province.
"Project Yarapossible" as it is known at All Hallows', has been the school's major fundraising initiative in 2010 incorporating a range of activities, including cake and sweet stalls, sausage sizzles, raffles, concerts, a walkathon and even a silence-a-thon!
For Angela O'Malley, Director of Mission at All Hallows', the project "not only raised significant funds, but has also provided unifying experiences for the whole school as the students are educated about and work together for the ways of Mercy."
A big thank you to All Hallows' School Brisbane for this extraordinary achievement!
Clubs support for refugees
Financial donations from five Sydney sporting and community clubs will go a long way to helping Mercy Works Inc. continue its successful refugee support project, Classroom Connect.
Thank you to Canterbury Bulldogs, Bankstown Sports Club, Ashfield RSL, Club Ashfield and Auburn Soccer Sports Club.
Classroom Connect assists young refugees in their school setting by providing individual support and mentoring, helping them to develop confidence and skills at a critical time in their settlement in Australia.
Students walk for Pundibasa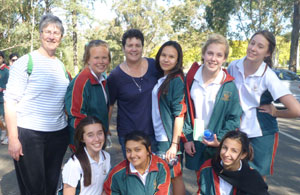 Over 200 Year 7 and 8 students from Our Lady of Mercy College Parramatta participated in a walkathon in August to help raise funds for the construction of an aid post in the remote village of Pundibasa in Papua New Guinea.
To demonstrate their support for the students' efforts, staff from Mercy Works Inc. also participated in the eight-kilometre trek, which involved walking twice around Parramatta Park in western Sydney.
Thanks to the efforts of the students, who raised over $5,700, the Pundibasa community is on the way to getting an aid post.
Gatherings to inform and thank supporters
Around 180 friends of Mercy Works Inc. – both old and new – attended three special gatherings in Sydney, Brisbane and Melbourne this year as part of the agency's development programme.
According to Margaret Coulter, Mercy Works Inc. Development Officer, these gatherings were wonderful opportunities to connect with new people and inform them about the work of the agency, but also to thank loyal supporters personally for their generosity over the years.
Photo: Friends of Mercy Works Inc. in Brisbane.
"Mercy 5" tackling poverty
Around 100 students from five Sydney secondary schools gathered in August to work together in the fight against poverty and injustice in communities in Papua New Guinea (PNG), Timor Leste, Pakistan and Australia.
The students, all girls from Years 10, 11 and 12, were from Our Lady of Mercy College Parramatta, Catherine McAuley College Westmead, Mercy Catholic College Chatswood, Monte Sant' Angelo Mercy College North Sydney and Our Lady of Mercy College Burraneer.
Known as 'The Mercy 5', these schools have joined forces before to share their common heritage as schools established by the Sisters of Mercy.
Kate Anderson, Mercy 5 Co-ordinator, said the day provided students with a greater awareness of global and local social justice issues through workshops presented by staff and friends of Mercy Works Inc.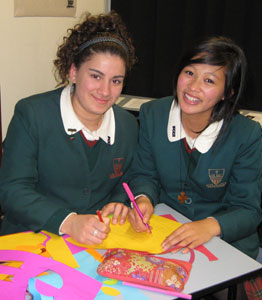 Drawing on their first-hand experiences, Mercy Works Inc. personnel covered issues such as the plight of asylum seekers and refugees in Australia, closing the gap on Indigenous disadvantage, and alleviating extreme poverty in communities in PNG, Timor Leste and Pakistan.
"The day was a huge success; the girls were so responsive and enthusiastic," said Margaret Coulter, Mercy Works Inc. Development Officer.
"These students are already actively involved in social justice groups in their own schools, but I think they went away with new insights into the poverty and deprivations of people in Australia and overseas. Their desire to go away and take action was very tangible."
For Martina from Catherine McAuley College Westmead, the day was "inspirational and opened our eyes to what is happening", while Monika from Mercy Catholic College Chatswood said, "We should not take things for granted and we are never too young to make a difference".
You can support Mercy Works Inc.'s community development programmes online or by contacting us on (02) 9564 1911.