Archived News Item
TO LIVE THE GIFT OF MERCY
September 10, 2015
Catherine McAuley Symposium 2015

The Catherine McAuley Symposium is a biennial event in Australia which has taken place since 2008. The Symposium is jointly sponsored by the Leaders of the Congregations of Sisters of Mercy Brisbane, North Sydney and Parramatta and the Leader of the Institute of Sisters of Mercy of Australia and Papua New Guinea. It is held in different Australian cities to enable maximum participation by Sisters and Partners-in-Mercy. This year the Symposium was held in Cairns, Newcastle and Melbourne. Sisters of Mercy and their Colleagues, Associates and Friends were warmly invited to attend the 2015 Symposium at any one of the three venues.
At each Symposium gathering, the main speaker was Irish Sister of Mercy Brenda Dolphin, who, since 2006, has been the Postulator for the Cause of Catherine McAuley. Brenda teaches at the Gregorian University in Rome in the areas of psychology, human development and psycho-spiritual integration. It was through these lenses that she invited us to explore anew the life, gift, challenge and legacy of Catherine McAuley to each one of us.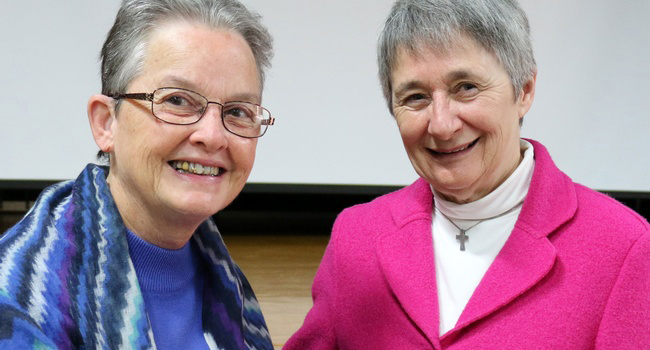 L-r: Berneice Loch rsm, Institute Leader (ISMAPNG) with Brenda Dolphin rsm (The Congregation), Postulator for the Cause of Catherine McAuley, at the Melbourne Symposium on 8 August. Photo: Anne Walsh
Each Symposium was structured to have the keynote address by Sr Brenda first then respondent presentations from two local ministries with some time for questions/reflections from the audience.
In Cairns, Far North Queensland, the first of the three Symposium settings, Maryanne Kolkia rsm addressed the gathering on the empowerment work of women and men in Papua New Guinea through Mercy Works Ltd. Alice Muir & Gabrielle Cassard, senior students from All Hallows School, then spoke of the influence of Catherine McAuley on their lives and action for justice through the school community.
In Newcastle, northern New South Wales, respondent presenters were Louise Campbell, Indigenous Elder and Consultant in Indigenous Spirituality at the Newcastle Catholic Education Office and Felicity Reynolds, CEO of the Mercy Foundation, a ministry of North Sydney Congregation that makes grants, advocates and works in partnership with other organisations to help bring about an end to homelessness.
In Melbourne, Victoria, Jocelyn Bignold and Angela Reed rsm were the respondent presenters. Jocelyn Bignold is CEO of McAuley Community Services for Women which provides support, advocacy and accommodation for women and their children who are experiencing homelessness, primarily as a result of family violence or mental illness. Sr Angela has recently completed her doctorate and undertook the field work component of her research on domestic sex trafficking in the Filipino province of CEBU. Angela is a member of ACRATH, the organisation through which Mercy Sisters work in addressing the issue of human trafficking.
Monique McGrath, Shelley Ryan, Bambi Afford and Bethany Edwards (seen below) from St Francis Xavier Primary School Ballarat East contributed the following response after their participation in the Melbourne event.
We felt extremely privileged to be in the company of the Sisters of Mercy at the final Symposium for 2015. We were welcomed with lively conversation and a strong sense of unity. We took away the image of Catherine's Christ as the abandoned and crucified Christ…"My poor abandoned Jesus." Our new learning was that we must be open to seeing the cross or the abandoned within our own communities.
Catherine's constant and eternal faith in our merciful God and her unyielding faith, validates her candidacy for Sainthood. "A woman of God and a woman of vision." She was the epitome of 'Mercy as love in action' or more appropriately a reaction to the needs and suffering of others. It is her legacy that urges us forward in our work and faith today.
We are constantly moved and reformed by the way Catherine's life and mission, are present in our own lives today. We have been inspired to push ourselves to give our all, with trust in our God.
"We are prophets of a future that is not our own." This underpins what we do as educators, and as active participants in our world.
Messages to: ISMAPNG
SFX Primary School
Source: Mercy E-News August 12 2015