Archived News Item
TIMOR LESTE: Slowly rising from the ashes
November 18, 2009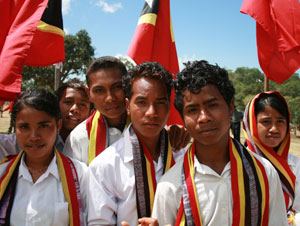 Ten years on from the historic referendum when East Timorese people voted overwhelmingly for independence from Indonesia, the country is slowly rebuilding. While significant challenges remain for Asia's youngest and poorest nation, there are signs of hope.
BY Stephanie Thomas
The path to nationhood for the East Timorese people was never going to be easy. After a few centuries of oppressive colonial rule by Portugal – including Japan's occupation during World War II – the East Timorese suffered Indonesia's brutal 24-year occupation and the killing and starvation of over 100,000 people.
In the violent rampage that followed the vote for freedom from Indonesia on August 30, 1999, around 1,500 people were killed and hundreds of thousands terrorised and displaced. The implementation of a scorched-earth campaign by Indonesian military and pro-Indonesian militias ensured that houses, schools, hospitals and roads were destroyed.
In the ten years since independence, the country has struggled. Internal conflict and violence have emerged in recent years disrupting reconstruction work and disturbing the equilibrium of the people.
But in the last 12 months, Australian Sister of Mercy, Helen Nolen has seen positive developments and has a strong sense that the people are "about to stride out".
"There are signs of hope. Before I thought it was quite tenuous," she says.
Since 2005, Helen has been involved in education and community development initiatives in Fohorem, a remote and mountainous area in the country's south-west, near the West Timor border.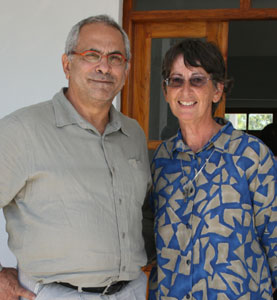 For Helen, the reconstruction of a gravel road connecting Fohorem to Suai, the capital of the Cova Lima District, is a significant development. While the road isn't to the standard it was before the 1999 violence, it will provide many people in the area with better access to much-needed services and opportunities.
"Life in Fohorem is not going to be the same now that they've got a road," she says.
Helen also believes the development of Suai, the largest town in the south-west region, will have positive effects for the whole Cova Lima District.
"Suai will become a very important centre for the petro-gas industry in Timor Leste. The government has already acquired land for future development and the President promised in his visit to Fohorem in August, to reopen the airport and the port facility in Suai," she explains.
The Government's introduction this year of pensions to people over 65 years of age and to those with disabilities has provided a substantial boost to families who rely mainly on subsistence farming for their livelihoods. People have also been compensated for their support of the resistance movement (1974-1999).
It's hoped that Fohorem and the other six sub-districts of Cova Lima will have electricity installed and mobile phone access in the coming months. The construction of a tower will negate the need to climb up the mountain to get mobile reception.
Helen also recognises Mercy Works Inc.'s support of various community development projects in Fohorem. In recent months, the agency, in partnership with Rotary Mosman and the Fohorem Water Commission, completed the installation of a permanent and safe drinking water system which is significantly improving health and living conditions for the people of Fohorem and surrounding villages.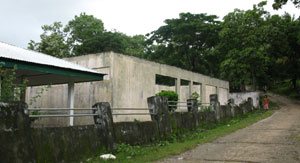 In late 2008, Mercy Works Inc. commenced another collaborative venture with the local people, Rotary Mosman and Mercy Health and Aged Care Central Queensland, to reduce excessively high maternal and infant death rates. Work on a maternal and child health centre, using an existing hospital structure damaged during the 1999 violence (pictured right), is underway. This centre will also provide outreach services to communities in more remote locations.
Despite these signs of hope, a number of challenges remain. One of the biggest concerns is the country's very young population, with over 60 per cent under 18 years of age. Because there is little work available in rural areas, except in agriculture which has little appeal, young people are drifting to urban areas where there is high unemployment.
"Do they have to drift to the cities?" Helen asks. "What's going to be available for them regionally, because at this stage there is no work for them?"
Helen has been encouraging the locals to establish a brick-making facility in the area. "They have access to sand and water," she says.
"It's the best sand in Timor for making cement blocks." She wants to give young people some sense of hope that their education is not in vain and that it will bring benefits.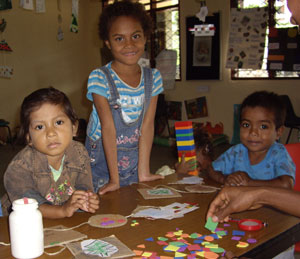 Education is fundamental to the country's development but inappropriate teaching methods work against this. Helen says the entrenched methods of learning by rote and choral shouting need to give way to more productive and creative teaching methodologies.
"These new approaches are happening very slowly across the country," she says. Recently, a mother told Helen that her child in kindergarten knew more than her other child in grade 3.
The challenges that Helen identifies will become more difficult if education and health systems and employment opportunities are not well managed. Good and honest government is essential for the ongoing development of the country.
Helen warns: "I think corruption and jealousy will be the two biggest issues to address in Timor".
Perhaps the greatest challenge facing the people of Timor Leste is the psychological trauma suffered as a result of Indonesia's 24-year occupation. The level of violence inflicted on people, including sexual violence against women, was extreme and horrific.
"I think there's a lot of healing that still needs to be done," says Helen. She recalls a friend's comment: "It's like a sore; we can't just cover it up because it's still there festering." Helen believes this is why violence keeps erupting. Healing the trauma of the past is paramount if the country is to move forward.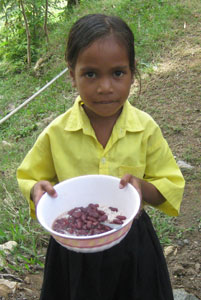 TIMOR LESTE: AT A GLANCE
population 1.1 million
life expectancy 59.7 years
adult literacy rate 50.1%
under five mortality rate 97 per 1,000 live births
maternal mortality rate 380 per 100,000 live births
about 60% of population under 18 years
about 49.9% of people live on less than $1 a day
HOW MERCY WORKS INC. IS SUPPORTING FOHOREM
installation of water system
education initiatives
kindergarten construction
solar panels for kindergarten and primary school
toilet block near primary school
young women's sewing and skills group
funded a motor bike for community health programme
funded a truck for use with projects and general parish use
vitamin supplements for women and children
kindergarten lunch programme
constructing kindergarten in Datorua, near Fohorem
constructing maternal and child health centre