Archived News Item
Three Bronzes
September 22, 2014
Gael O'Leary's extensive career began as a teacher and as a painter and printmaker. Since discovering her calling and talent in sculpture, her work over the past three decades has been predominantly in bronze and includes many large commissioned works, some up to five metres. These works are installed in various localities in New Zealand, Australia and the USA. They are in schools, churches, hospitals and public spaces and reflect themes of spirituality and social justice so dear to her heart. She believes that, as an artist in the Christian tradition, the challenge for her is to make these themes relevant today. This relevance is seen especially in recurring themes such as her fascination with trees and all that they symbolise – growth and deterioration, hope and resurrection. Gael's sculptures are not just visual representations, they are infused with a sense of spirit which gives life to the sculptures. This can be seen in the gesture, the loving gaze or the painstaking detail with which the hands have been created.
When Gael was commissioned to create the bronzes for Stanmore and Lewisham she came to Stanmore to meet with the Institute Leadership Team. Gael sat in the garden for some time. In her words –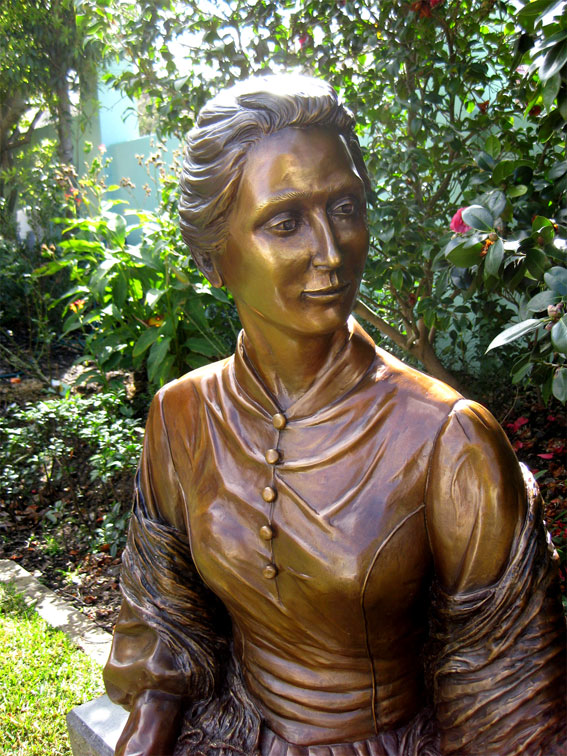 'It was there that I had a strong sense of Catherine sitting with me and that provided the inspiration for the sculpture of Catherine sitting in the garden which I named "Come Sit Awhile". While I used a live model on which to base the figure, I find when it comes to my sculptures of Catherine, I always let the face emerge from the clay. This is part of a meditative process I find myself in when creating a work such as this.
Once I blocked in the figure in clay I spent some time on the face – in some ways it felt as if I was channelling Catherine, a woman of courage, infinite wisdom, and deep faith; a woman who had a kind heart and a listening ear. I felt she should be an inspiration and beacon of hope and comfort to all who come to sit beside her. The prayer book Catherine is holding indicates her communion with God. At the same time, it was important to show that she was a woman who was open to the needs of others. Although I am now on a different path, my Mercy journey imbues who I am and Catherine continues to be an inspirational woman in my life. It was a privilege to create this sculpture of Catherine. I hope many come to "sit awhile" with her.'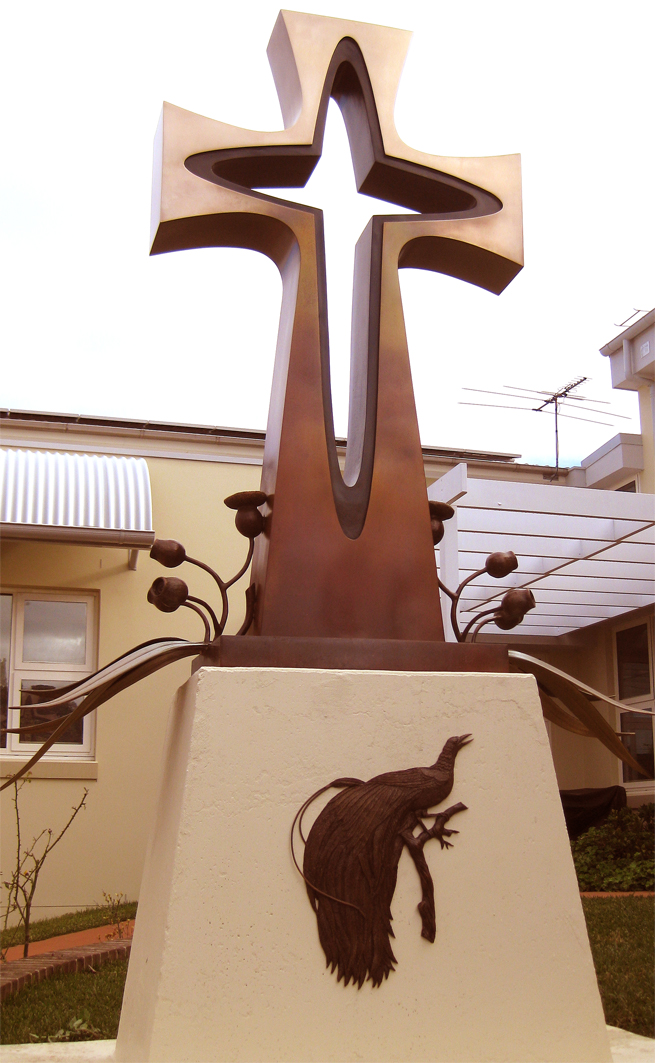 Already the bronzes 'feel at home' in Stanmore. Visitors to the Institute Centre take time to sit awhile with Catherine and to draw in the courage, wisdom and faith of this remarkable woman. The Mercy Cross has a decidedly ISMAPNG flavour – the cross, sitting on a base surrounded by richly Australian and Papua New Guinea symbols – gum leaves and gum nuts and the bird of paradise. Both Catherine and the Mercy Cross greet us each morning and add a rich flavour to the day.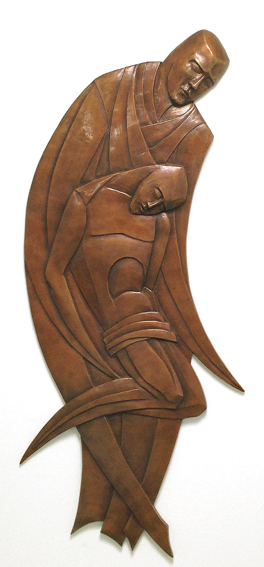 At Mercy Centre 1 Thomas St., Lewisham – the offices of Mercy Works and ministry offices for ISMAPNG – a stylised bronze of the Good Samaritan has been installed on the internal stair case. As with Catherine and the Mercy Cross this bronze calls for a contemplative glance.
Visitors are welcome to 33 Myrtle St., Stanmore and 1 Thomas St. Lewisham to be inspired by these beautiful works.
Messages to: Barbara Bolster