Archived News Item
THINKING ABOUT ANTI-POVERTY
October 19, 2015
A week of activity to overcome poverty: what can you do?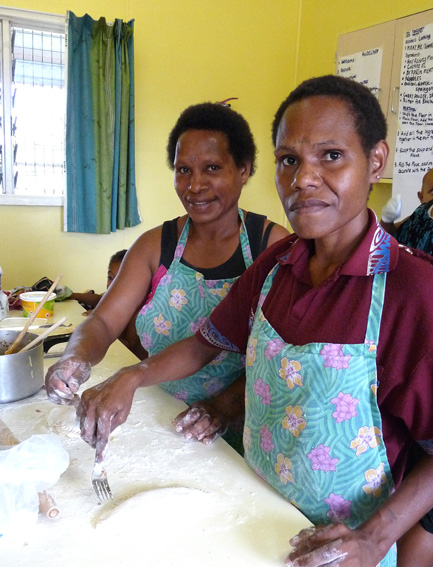 Day in, day out, billions of people around the world struggle with the terrible repercussions of poverty. Anti-Poverty Week in October each year is a time in Australia for people to organise or take part in an activity to overcome issues of poverty and hardship both in Australia and overseas.
Working hard in Papua New Guinea
If you haven't organised any activity to support this great initiative, don't worry it's not too late to improve the lives of people living in poverty. Mercy Works has a number of programs in Papua New Guinea helping communities to lift themselves out of poverty. Papua New Guinea is our closest neighbour and yet millions there struggle with poverty. In a population of over 7 million, 37.5% are living below the national poverty line. By making a donation you could make a big difference.
Learning skills
In Goroka and Mt Hagen in PNG's Highlands, Mercy Works runs training programs to provide local people with skills such as clothes making, cooking and growing vegetables. This helps them establish markets or earn a living. Mercy Works also supports these skills training with budgeting and marketing to help ensure sustainability.
Every fortnight in Goroka they hold the Mercy Market. Here, people who have attended training sessions are able to sell their wares and demonstrate their skills. As well as providing support for people trying to establish small businesses, the markets act as an inspiration for others on what can be achieved by learning skills.
Promoting health
In the Northern Fly region of PNG, Mercy Works supports a program that trains people working in health centres and aid posts in remote communities. The training modules include learning about health, self help care and, healthy children and healthy mothers.
Access to education
Education is one of the keys to helping communities lift themselves out of poverty. Mercy Works supports a number of projects to help young people access the education they need: from providing tertiary education support for students, to helping train teachers for remote communities and providing dormitories so young students have a safe place to stay while studying.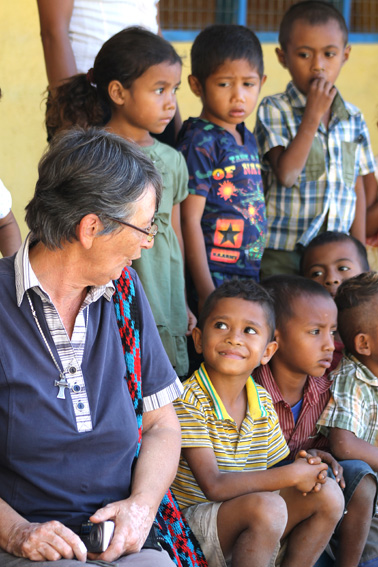 HOW YOU CAN HELP
There are a number of ways you can help Mercy Works activities this Anti-Poverty Week.
• Become a friend
By becoming a Friend of Mercy Works you can support long term development projects like these. An annual donation to become a Friend of Mercy Works costs $50 ($30 concession), and is tax deductible. JOIN NOW
• Make a donation
You can also make a one-off donation. All donations over $2 are tax deductible. GIVE NOW
• Like the Mercy Works
You can show your support by liking the Mercy Works Facebook page and posting you best wishes for their activities during Anti-Poverty Week. LIKE NOW
Messages to: Mercy Works
Photos:
Top: Skills training in Goroka
Bottom: Sr Helen Nolen with the children at the Early Learning Centre