Archived News Item
THE URSULA FRAYNE CENTRE REOPENS ITS DOORS.
December 7, 2015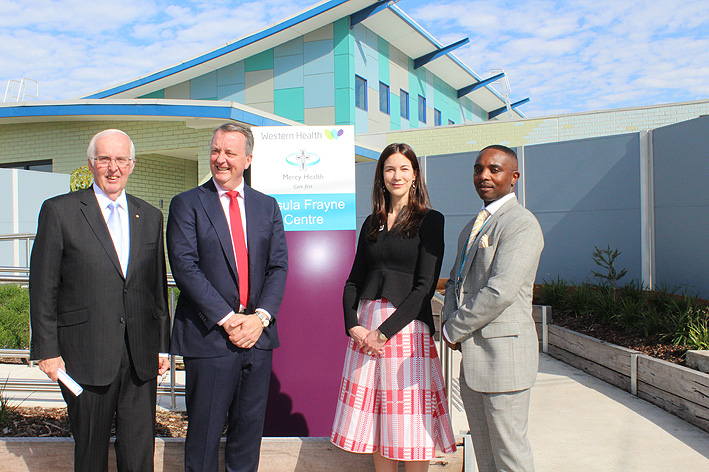 To coincide with Mental Health Week, Minister for Mental Health Martin Foley officially opened Mercy Health's refurbished Ursula Frayne Centre on Monday 5 October. The centre is named after esteemed Sister of Mercy Ursula Frayne, who led the first Mercy community to Australia.
The extensively refurbished Ursula Frayne Centre (UFC) provides inpatient care for patients who are experiencing acute episodes of mental illness and is based at the Footscray Hospital campus.
Mercy Health operates the UFC, which caters for those who cannot be safely cared for at homes, or in a less restrictive community setting. The UFC has 12 adult beds with an additional four beds functioning as a Psychiatric Assessment Planning Unit (PAPU).
Additionally, the $4.95 million Victorian and Commonwealth Government funded refurbishment also included improving the Orygen Youth Unit seclusion areas and a Behavioural Assessment Room in the Footscray Hospital Emergency Department.
Due to significant demand for mental health services in the Western region, the Victorian Government has committed an additional $34.7 million for the expansion of mental health beds at Werribee Mercy Hospital including the construction of a purpose-built, two-storey acute inpatient facility. By the end of 2016 there will be:
• 50 adult acute inpatient beds
• 4 Psychiatric Assessment and Planning beds
• 8 Mother Baby beds.
The Ursula Frayne Centre will operate until the opening of the increased beds at Werribee Mercy Hospital.
Messages to: Mercy Health
Photo: L-R Julien O'Connell – Chair Mercy Health; Minister for Health Martin Foley, Clare Grieveson, Group Executive Director Quality, Risk & Service Improvement Mercy Health; Collins Munetsi, Nursing Unit Manager, Ursula Frayne Centre.