Archived News Item
The Santa Maria Cross
March 28, 2014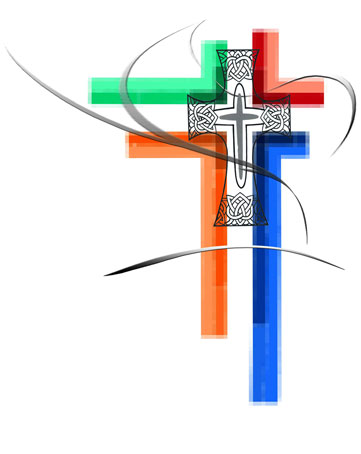 On a hill above a southern stretch of the Swan River and with a glorious view of the city of Perth is Santa Maria College. The first Sisters of Mercy in Australia travelled this way up the Swan River in 1846 towards Perth to set up a Convent and the first Secondary School for girls in Australia.
Nearly one hundred years later Santa Maria College for girls was opened in 1937 in bushland surrounds to cater for Boarders as well as Day Scholars. Today it is a prestigious College with over one thousand students catering for girls in Years 5-12.
On its 75th Anniversary a special symbolic cross to depict its history and traditions was commissioned. The design and development of the Mercy Cross sculpture was undertaken by Sr Florence O'Sullivan, College Board member and Lisa Bowden, College Art Teacher. It is a beautiful monument and its meaning,described on a plaque underneath the Cross, says :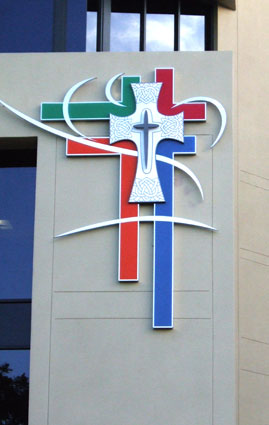 The Celtic pattern on the Mercy Cross represents the Irish heritage of these early Sisters of Mercy in Australia and the courageous steps taken by them. The colours of red, orange, blue and green on the Mercy Cross signify values of passion, strength, mystery and hope demonstrated in the faith, pastoral, cultural and sporting aspects of College life. The continuum of growth and educational advancement is depicted in the organic ribbons that encircle the Mercy Cross and extend out to emphasise a continuous journey as people of Mercy. Just as on this site during World War II searchlights were set up to beam out into the dark skies now the illuminated Mercy Cross reaches out like a beacon to the community. This illuminated Cross calls us to live out the values of Mercy, Compassion, Justice, Service and Excellence. These special values are espoused by the campus community and embedded in the College song, Soli Deo Gloria (All for the Glory of God).
Messages to: Pauline Masters rsm