Archived News Item
The Power of Sport
August 30, 2014
The Mt Hagen Mercy Swans
Australian schoolteachers and Australian Defence Force personnel introduced Australian Rules to Papua New Guinea in 1944. The game experienced rapid growth during the 1960s but suffered greatly through the 1980s with the popularity of rugby league on television. Recently, however, it has achieved big strides in the community and is now the second most popular sport in the country. AFL-PNG was established in August 2001.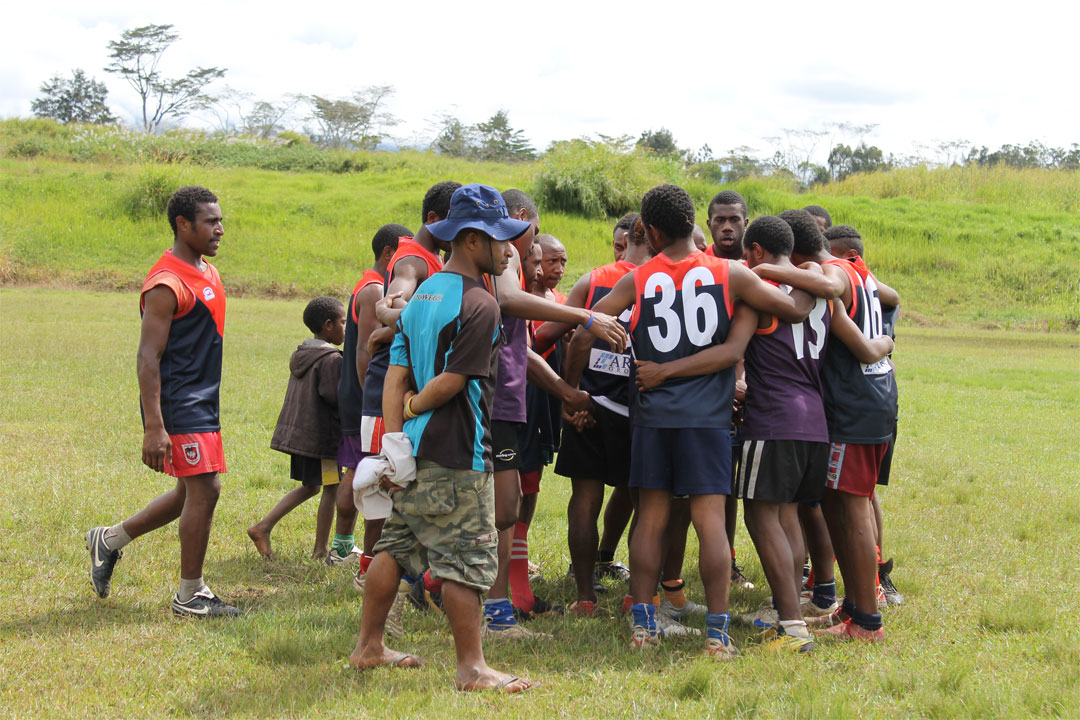 Despite having the second highest number of players and one of the highest junior participation growth rates for the sport in the world, AFL-Papua New Guinea receives one of the lowest allocations of funding from the AFL. It survives on Australian private donations and a small group of sponsors.
Mercy Works in Mt Hagen has been a proud sponsor of AFL since 2012. Their team is for youths aged 13 -19. They chose the name Mercy Swans after their Sydney heroes, the Sydney Swans.
Mercy Works invites young people who have nothing to do to be involved in sports as a way of discovering their skills and talents. The young men who play AFL are from different provinces and come together to form a football team for the pre-season when the officials can see the teams and the players. After the pre-season the selection of the 50 players is made for the season games. The Mercy Swans are working hard to reach this next level.
Sport is a way of educating young people to become good men and women in the future. They come to know each other and are able to build good relationships. As well as teaching team skills and goal development, the Mercy Swans team is also helping break down social barriers. These young people, some of the poorest of the poor in their communities are playing with the children of the local police, interacting with their families and reducing the prejudice that many people have against street sellers and taxi boys. By encouraging the players to attend practice sessions they are also enabling them to become physically fit and preparing them for a positive contribution to the future.
For more information regarding Mercy Works go to http://mercyworks.org.au/

Messages to Ailsa Mackinnon rsm