Archived News Item
The power of compassionate support
November 25, 2011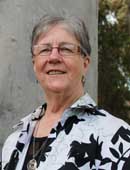 In the last edition of The Bilum one of the articles was about "supporting people on the edges of life". I remember reading this article and knowing with certitude that Mercy works, no matter where its programmes operate, is about supporting people on the edge.
The current edition continues to tell the stories of our activities in the prisons, with the elderly, and children of border crossers, in the early education centres and clinics, with the refugees, in the juvenile justice system and with skill building programmes for teachers and team leaders. This is to mention just a few of the stories that have reached my desk in 2011.
Some of you would be familiar with the story of Rebecca, a woman who served a long prison sentence in Goroka. Let me share her story again because it illustrates beautifully the transformation that can take place when compassionate support is given to people on the edge.
Rebecca was serving a twelve year sentence for her crime. Each week she took part in the skills training programme offered by Mercy Works Goroka. When released, Rebecca went back to her village and was able to use these skills to support herself. Most significant to this story is that the women of her village approached her with a request to teach them the skills she had learnt. Rebecca, supported by the sisters at Mercy Works, accepted the challenge to work with these women. The story concludes with evidence that market gardens have emerged, the families have nourishing food to eat, and the relationships amongst the villagers has significantly changed. One woman has made a difference. What an example of transformation!
Supporting people on the edge begins not with the story above but with those who have come to know the plight of the people, have perceived the needs and who have responded to them. You are amongst these people. Mercy Works thanks each of you for your faithful support and asks that you continue the journey with us.
The continued development of Mercy Works over the years would not have been possible without the dedication of a broad range of people who deserve the organisation's gratitude. The staff, both in Australia and in our locations overseas, have contributed far beyond the remit of their jobs. The Board has given its time, advice and commitment so generously and the Institute and sisters have provided continuing support.
I would also like to thank Stephanie Thomas, past editor of The Bilum for her skilled stewardship of our magazine since the first issue in June 2008. I welcome our new editor, Bruno Bouchet who comes to Mercy works with expertise, flair and passion.
May Peace be your gift at Christmas and your blessing all through the year.