Archived News Item
THE PLANTING OF TREES
February 8, 2016
This afternoon as we recognise the gifting and planting of trees that will hopefully provide shade and shelter to generations to come here at Damascus College, this gathering also provides the opportunity to informally celebrate someone who has nurtured thousands of children, young men and women through their education. We give thanks for the contribution to education, not only in this school but across the diocese, by Marie Davey rsm. This has been over a period of fifty years. In this College she is loved and cherished by the staff team. Families seek her out as a person who they know has their best interests at heart, students know that Sister Marie will always be firm and fair in her dealings with them.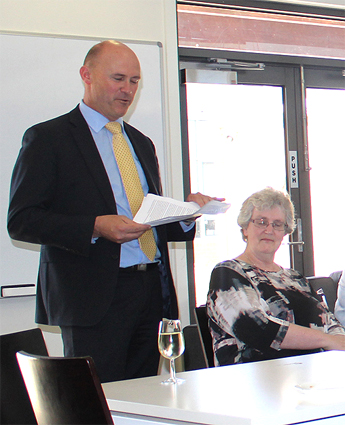 I welcome this afternoon members of Marie's family both the Davey clan, particularly her brother Fr Brendan and the clan that is the Sisters of Mercy and finally Marie's extended family, the Damascus clan.
At this time, I thought it might be interesting to revisit that fifty year journey – so Marie reluctantly sat down with me and shared some of the chronology of her educational and life experience, which I'd now like to share with you.
Marie is the youngest of her family of six children born to Mattie (which was the preferred family name of Martha) and Mick Davey. Girls top and bottom of the family with four boys in between. The family spanned seventeen years – with Marie a joyous arrival and seven years the youngest at the end of the family. As befits a good Catholic girl she was born in the house next door to the pub which her grandparents owned – 'The Millers Arms' in Ballarat North. When Marie was three the family moved to Drummond Street and she remained in the family home until she joined the convent.
Marie attended St Columba's Primary School until she achieved a Merit certificate in grade 8. Her primary school days provided Marie's first educational contact with the Sisters of Mercy. Throughout my time here at Damascus, I have encountered two grandfathers of students in the school who claim to have been Marie's beau throughout primary school, but amazingly she has no recollection of this.
Marie moved to commence her Proficiency certificate in Grade 9 at Sacred Heart College where she remained to complete her Intermediate, Leaving and then Matriculation. In those days, during her matriculation Marie did first year teacher training which included Saturday classes. It was the first of a two-year primary teacher training course delivered through Sacred Heart Teachers College, which later became Aquinas Teachers College, then Aquinas College which is now a campus of Australian Catholic University.
At eighteen years of age Marie began her teaching career at St Columba's Primary School in 1965 where she taught grade 3. It was during that year that she moved from being Miss Davey to Sister Marie as a postulant with the Sisters of Mercy in Ballarat East. At the end of that year Marie became Sister Mary Judith. Anyone who has talked to Marie about her religious name now knows that it was taken after St Jude who provided hope for the hopeless. And it is indeed that spirit of hope that has defined Marie's teaching and educational leadership.
After being received as a novice, Marie commenced her spiritual year in 1966 at the Convent of Mercy in Victoria Street. I ignorantly asked what a spiritual year entails. The answer – it was a time
apart for prayer and reflection, but much of that was done through copious quantities of laundry, cleaning and housework at the same time!
Sister Judith then moved to a teaching appointment at St Alipius Primary School, Ballarat East throughout 1967 and then at Our Lady Help of Christians Primary School (OLHC) in Wendouree in 1968. In reflecting on her time at Our Lady Help of Christians, Marie said that she recently had a little old lady ask her if she used to teach at OLHC. Marie said that she did, at which point the little old lady said to her 'I think you used to teach me'. That little old lady was the grandparent of a current student but through the course of our conversation, our student's grandmother became transformed from a little old lady to a vibrant middle-aged woman.
Marie commenced her secondary teaching career at St Mary's School in Warracknabeal in 1969, (about the time I was born) where she taught Maths, Science, French and pretty much anything that needed to be covered as you did in those days in country schools. In 1972 she was called back to Ballarat for her final profession. Marie enjoyed Warracknabeal, which was a boarding school, and would happily have stayed there but she was required back here and returned to a teaching position at St Columba's.
Following her final profession Marie returned to Warracknabeal for 1973 and 1974 and then began the next stage of her contribution to diocesan education in what she perceives to have been a 'Grim Reaper' role. Marie closed the boarding facility in Warracknabeal over this time and you may see a theme that begins to occur from this point forward.
In 1975 Marie went to St Francis Xavier College in St Arnaud and closed the boarding school.
In 1976 Marie assumed her first teaching appointment at Sacred Heart College, Ballarat East where she supervised the boarding house and taught RE, Geography and guitar after school. And guess what happened in 1978, she swung the scythe and closed the boarding school at Sacred Heart too.
From 1979 to 1982 Marie returned to tertiary study at Burwood State Teachers College where she undertook a bachelor of education in music. Concurrently Marie also studied a bachelor of theology at the Catholic Theological College, and over this period of time she lived at the convent in Blackburn.
In 1983 she returned to Sacred Heart College to teach music and religious education. She lived at Patrician House and supervised the first year ACU-Aquinas student teachers living there.
Marie became deputy principal of Sacred Heart College, Ballarat East in 1986 and assumed the principalship of the College in 1992, a role she continued until 1994, when, yes, the school closed.
Of course, it isn't really closure that has defined Marie's career but the creation of new and exciting opportunities for students. Marie played a critical role in the decision making and establishment of the new Damascus College in 1995. This was Ballarat's first year 7 to 12 Catholic coeducational school which began on two campuses. Marie commenced as the deputy principal of the new school and the Victoria Street campus coordinator, a role she fulfilled until 2010 when the Victoria Street campus closed and the College moved to one campus at Mt. Clear.
Marie said that the decision to move Damascus College to one campus was taken under John Shannon's leadership in 2004, however I recall very strongly Marie's role in reaching the decision regarding the campus consolidation project. The decision was reached towards the end of Term 1 2009. Marie and I were appointed acting co-principals in Term Two 2009 and the preparations began in earnest for the move of Damascus College to Mount Clear. Under the new structure Marie has been the sole deputy principal from 2011 until now and today we stand here at the conclusion of 2015 celebrating 50 exceptional years of education and educational leadership.
It seems to me to be an appropriate conclusion to this glimpse of Marie's fifty years in education to reflect on Marie without revisiting some aspects of St Jude and noting the parallels in their respective lives
So who was St Jude?
1. St Jude was one of Jesus' 12 apostles, chosen to spread the word of the gospel. Only last week Marie's name mystically appeared in a series of correspondence with the Saint prefix.
2. Jude was also known as Thaddeus or Thaddaeus – said to be a surname for the name Labbaeus which means "heart" or courageous".
3. He is believed to have written the book of Jude. Religious scholars say it contains some of the finest expressions of praise to God in the Bible's New Testament. We like to think that Marie's life's work is also one of God's finest expressions of loving mercy in the world.
4. Jude became associated with desperate situations because of a letter he wrote to the Churches of the East. In it he says that the faithful must keep going even in harsh or difficult circumstances. Marie has been that to this community and in each of those communities where difficult decisions have needed to be made, she has remained a beacon of hope in difficult or challenging circumstances.
5. He is thought to have been martyred in Beirut in around 65 AD, along with fellow apostle Simon the Zealot. He is often depicted showing a club or axe or scythe, symbolising the way he died. I think the parallel here is reasonable clear.
6. He is also sometimes pictured with a flame above his head. This refers to the Pentecost, where he and the other apostles received the Holy Spirit. Occasionally we feel there have been flames over Marie's head but for quite different reasons.
7. The personal ads sections of some newspapers sometimes include messages from people calling on St Jude for help in times of need, or thanking him for his support and guidance. Marie is regularly sought out here as the person for support in people's time of need or crisis.
This afternoon I thank Marie for being all that she is to our Damascus community. I acknowledge her powerful ministry and thank her for being Catherine amongst us. She is first here each day and last to leave. She has touched the lives of thousands. Her life has echoed the words of Catherine McAuley: "While we place all our confidence in God, we must act as if all depended on our exertions."
Marie's exertions have been extraordinary. Fifty years in Mercy-Catholic education is a wonderful milestone and today we thank her for such a magnificent contribution to the lives of so many.
Photo – From left Matt Byrne and Marie Davey rsm.
Messages to:
Matthew Byrne – Principal Damascus College Ballarat