Archived News Item
The Palestinian experience: "to not forget"
August 18, 2008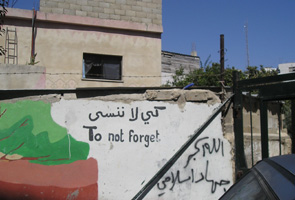 There are about 33 million refugees throughout the world today, but in parts of the Middle East, generations of people have become refugees in their own country. Sister Sally Bradley RSM (Melbourne) reflects on the experience of visiting a Palestinian refugee camp near Bethlehem. In one of the world's oldest refugee camps, generations of Palestinians can easily be forgotten. Our pledge must be "to not forget", says Sally.
In 2007, as part of a sabbatical time, I had the privilege of studying in Israel. I arrived with an open mind. My limited understanding of scripture, the significance of land and the inhabitants of this land took on a whole new meaning in this sacred place. There was also something very familiar about this place. Deep in my psyche I felt I had been here before! However, there were also some shocks and dawning realisations as I discovered its long and complex history. Part of this uncovering was to experience the plight of refugees in Israel. Nothing could have prepared me for what I saw.
"To not forget"
We headed south from Jerusalem to Bethlehem by bus through the Israeli military checkpoint and alongside the Dividing Wall. This Wall was built in 2005 by the Israelis – they say to maintain safety. The Palestinians say it's like living within a prison. It is concrete and 30 foot high. It is 703 kilometres long, winding through Israel.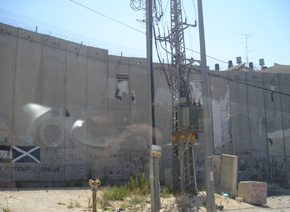 The young soldiers carrying guns on their backs (I could never get used to seeing young Israeli women in military uniform), allow us through without examining our passports when our driver, a young Palestinian, tells them we are all American tourists! It is much more difficult for Palestinians to pass through the checkpoints and they are searched. We visit some of the 'holy sites' in Bethlehem. The word 'Bethlehem' in Hebrew means 'bread'. There are no Jews in Bethlehem, except for a new settlement on the hill nearby. There are very few Christians left in this town.
We are told that we will visit Dheisheh, a refugee camp. Located on the edge of the city of Bethlehem in the occupied Palestinian West Bank, Dheisheh is one of 59 Palestinian refugee camps dispersed throughout the West Bank, Gaza Strip, Jordan, Lebanon and Syria. These are considered the oldest refugee camps in the world. Dheisheh was established after the expulsion and flight of more than 750,000 Palestinians who were displaced by the establishment of the State of Israel in 1948 (known to Palestinians as 'the catastrophe' or 'al-Nakba' in Arabic). The refugees that fled to Dheisheh came from 45 villages west of Jerusalem and Hebron. Five million Palestinian refugees remain displaced around the world today.
It is very hot and now time for lunch. As we enter the education centre in Dheisheh camp and walk up the stairs to the restaurant, there are painted murals on the wall and powerful words, in English and Arabic.
After a delicious lunch a young Muslim guide takes us on a tour of the camp. There is frustration, anger and despair in his voice as he repeats his familiar rhetoric. There are 12,000 people, 7,000 of them children, living in the camp on less than one square kilometre of land, surrounded all around by a high cement wall with barb wire on the top. There is only one entrance to the camp, a large revolving gate. In the camp there is only one doctor six days a week at the small health clinic.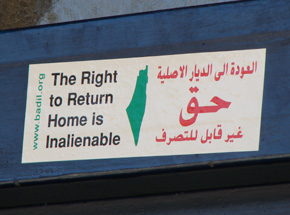 There are two under-resourced schools. There is very limited water and electricity (an Israeli has five megalitres of water a day; a Palestinian has five litres). Often electricity supplies are cut, because of the debt the Palestinians owe the Israeli government, yet there is little opportunity for employment in the camp. The people in this camp are all Muslims. The Christians have managed to leave over the years, aided by their churches.
I see small two and three storey buildings, with narrow alley-ways in between. Our guide points out his home where 14 people live together on one floor and two rooms. There is little privacy. The children come to find out who we are. They are friendly, curious and bored. There is no where for them to run and play. We visit the education centre again and purchase beautiful crafts made by the women of the camp, including fine Palestinian embroidery.
I leave in shock, my gut churning. On our return bus journey questions begin to dawn on me: Where is the hope? Where is the justice, when generations of people are doomed to live in a refugee camp in their own home country? There are no easy answers. The words on the wall as we leave make their plea: To not forget!
On leaving Israel and Palestine
On leaving Israel, I went to stay with a Palestinian family who now live permanently in Amman, the capital of Jordan. Their daughter is a specialist dentist who studied for three years in Melbourne. My Jordanian friends were most hospitable and gracious, yet the whole week I spent with them I felt both angry and embarrassed. Gradually their own family history emerged. I heard their story first-hand of having to leave their homeland of Palestine. The mother's family lived in Jaffa, a beautiful city on the Mediterranean Sea. Her family had to leave in 1948 when they were expelled from their homes by the Israeli soldiers. The father's family came from Hebron and they fled during the 1967 war. The grave injustice and the blatant discrimination hit me in the face. Here I was, an Australian citizen, with an Australian passport who was free to visit any country in the Middle East, including 'Israel', which I was now very careful to call 'Palestine', while this family were not free to visit the homeland of their ancestors, only just across the neighbouring border – only a few hours drive. I could sense their palpable anguish and grief just below the surface. I felt helpless!
All I could do was to make this story of injustice known.
By Mohammed aged 11, killed in the cold blood of war, age 23.

If I could feed all the hungry
I'd shelter all the homeless
I'd make all people free
I can't dismantle all the bombs
I can't feed all the hungry
I can't shelter all the homeless
I can't make all the people free
I can't because there is only one of me
When I have grown and I am strong I will
Find many more of me
We will dismantle all the bombs
We will feed the hungry
We will shelter all the homeless
We will make all people free
We will change the world
Me and my friends together, at last.
Further FACTS about Palestinian refugees
Palestinian Refugee Camps were set up after the 1948 Arab-Israeli war and the establishment of the State of Israel. At first there were tents, then narrow concrete shanties were built.
59 refugees camps were established by UNRWA (United Nations Relief and Works Agency for Palestinian Refugees in the Near East) between 1948 to 1965 in Jordan (10), Lebanon (12), Syria (10 + 3 unofficial), the West Bank (19, including Dheisheh Camp), and Gaza Strip (8).
In 1950 there were 914,000 Palestinian refugees. In 2005 numbers of Palestinian refugees had increased to 4.3 million.
Books to read
Elias Chacour, Blood Brothers and We Belong to the Land
Websites to check
From: Specific Issues Committee, Asylum Seekers and Refugees (Sisters Sally Bradley, Claudette Cusack, Geraldine Mugavin and Lorraine Phelan). The Committee warmly invites your response to the article or the issue.
Email: asylum.refugees@mercy.org.au

Contact: Carmel Heagerty RSM, Institute Justice Co-ordinator
Email: Institute.Justice@mercy.org.au