Archived News Item
The New Institute – So Much Nearer Than We First Came To Believe!
August 23, 2011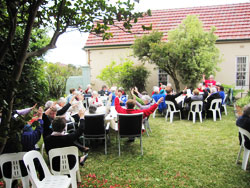 On Sunday, August 21, Sisters of Mercy gathered at Stanmore to celebrate the new institute that is now so much nearer than we first came to believe! Those who will belong to Central Group B (so named for the time being) and especially those who live in Sydney, had the opportunity to come together and strengthen the bonds of community. They came from the Congregations based in Adelaide, Bathurst, Goulburn, Grafton, Rockhampton, Singleton, and Wilcannia-Forbes. The energy of these Mercy women was tangible as they opened their hearts to each other and explored the common threads of their stories.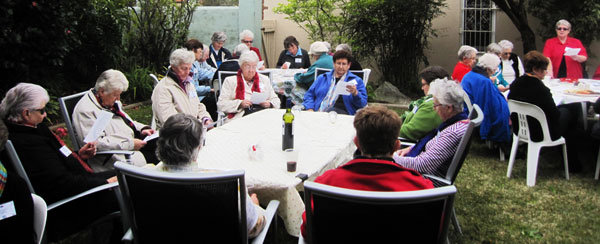 The purpose of the day was principally social; it was intended to be a way of getting to know each other, of beginning to get a feel for the community to which the sisters will belong when the new institute is promulgated on December 18. Sixty-six sisters were able to come and enjoy each other's company in the garden area at St Catherine's, which, with Mercy House and McAuley House, is destined to be the Administration Centre for the new institute. Cecilia Rowe and Yvonne Channells who have just moved out of Stanmore, worked hard in preparation for the day. Barbara Bolster, who had done the organising and buying of food, welcomed everyone and invited the sisters to go through the buildings so that they would have some familiarity with the Institute's administrative hub. By mid-morning Barb had the barbecue turned on and the sausages were beginning to sizzle. Val O'Hara presented a 'getting –to-know-you' session and a prayer of blessing on each other and the meal. As mid-day approached, Barb, aided by Jan Holahan, was preparing food for fewer than the biblical five thousand but the supply did seem endless! Salads were set out and round tables provided great gathering places for sharing food and fellowship. Not even a few drops of rain could dampen spirits! As I'm sure all Mercy students wrote in their youthful compositions – We all went home tired but happy!