Archived News Item
The Good Cup of Tea Event
November 16, 2011
Australian Mercy Sisters, Associates and Friends gathered in various places to support the Mercy International Association's initiative of hosting a 'Good Cup of tea Event' in remembrance of the 170th anniversary of the death of Catherine McAuley.

Read the reports from gatherings in Caringbah, Allawah, Grafton, Evans Head, West Perth and Mildura and those posted on the mercyworld.org website from America, England, Philippines, Ireland and New Zealand.

In remembrance of Catherine's Anniversary and enjoy "A Good Cup of Tea", 31 Sisters from Rockhampton, Towmsville, Brisbane, Grafton, Gunnedah, Bathurst, North Sydney, Parramatta,Goulburn,Ballarat, Melbourne as well as Wilcannia-Forbes gathered at Allawah.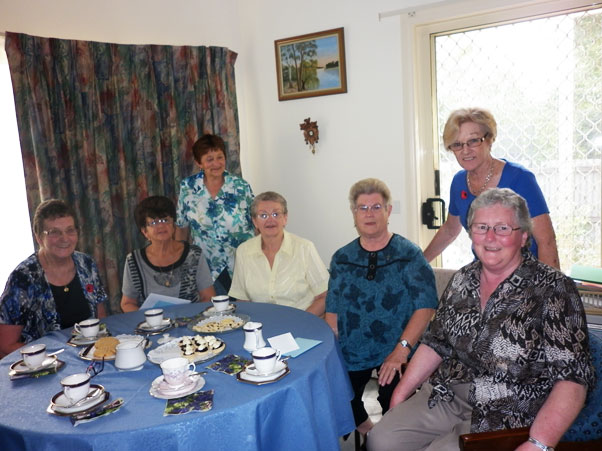 The explanation of the symbolism of "The Good Cup of Tea" ' written by Sheila Carney rsm was read and really set the tone for the evening. Much energetic sisterhood was enjoyed over a bountiful supper.

Nineteen Circle of Mercy Associates of Caringbah gathered at the Sisters of Mercy's home at 12 Coolabah Place, Caringbah to enjoy each others' company and a good hot cup of tea and special eats.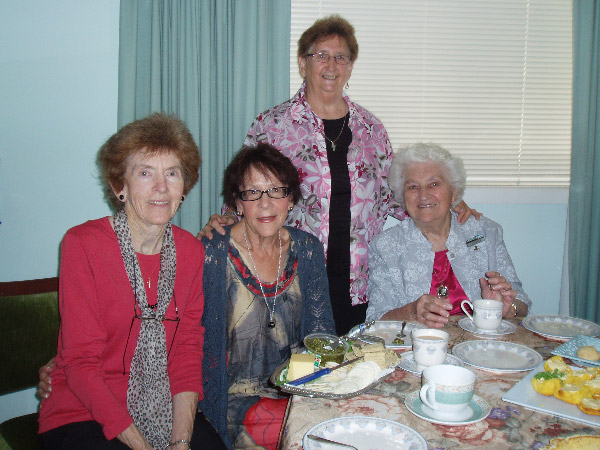 To enrich and extend our understanding of International Mercy, stories from the all over the globe were shown from the Mercy and Justice DVD-Rom. These stories captured the incredible ministries of our many sisters whose influences liberate and empower women oppressed by their particular societies' belief systems.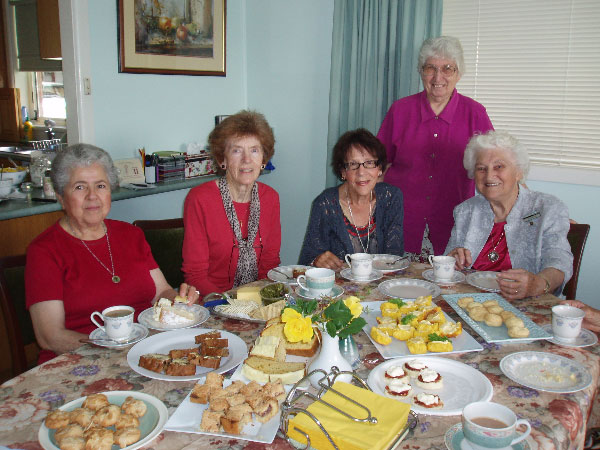 These images were challenging and confronting as we present were aware of so much that we take for granted ………. freedom to live with hope alive in our hearts ……… the opportunities we have to make choices.
To see and hear our sisters from such poverty stricken situations bringing Catherine's Mercy was indeed very moving. Our hearts were united with those sisters as we felt proud of the loving care and empowerment they offer. Truly the words of Jesus, "I have come that you may have life and have it to the full" are brought to life by Sisters of Mercy all over the world.

We contributed our GOLD COINS to assist the furthering of the Mercy Ministries through our Mercy International Centre in Dublin.

The Good Cup of Tea event was held in unit 7, 177 Twelfth Street, Mildura on 11/11/2011 and hosted by Joan Osmotherly RSM and Rosemary Graham RSM.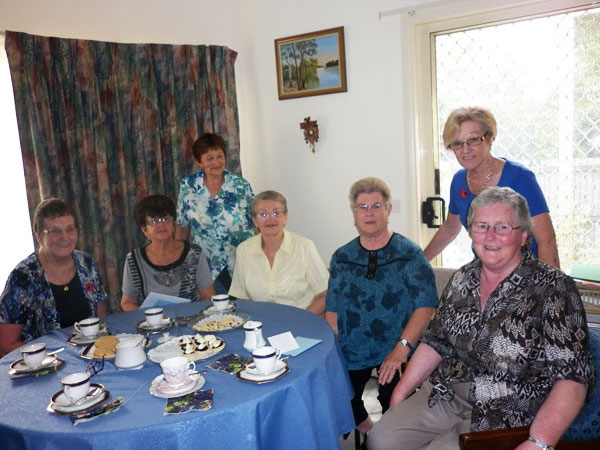 Six women: Jean Rocca, Carmen Macri, Margaret Augustine, Rosemary Barnes, Denise Grennan and Mary Flinn attended and enjoyed learning about Mercy International Centre and Catherine McAuley.
They were generous in their contributions raising $200

Morning tea at Evans Head on 11.11.11 was a happy occasion for parishioners from Evans Head, Woodburn and Coraki. We watched the DVD 'The Circle of Mercy' and heard stories of Catherine, of local pioneer sisters and current friends. The photos on our 2011 Congregational Calendar were of great interest, as were Catherine leaflets, Mercy Works Christmas Card Brochures and copies of The Bilum. Our cuppas were accompanied by delicious home cooking and we raised some funds by means of raffling a Fruit Cake from Jenny's Kitchen with accompanying bottle of wine. At 11 am we paused to pray together for Remembrance Day.

In Grafton the event was held on Saturday morning on the river bank in front of the convent. The organizing committee had gone to great lengths to set it all up and had managed to get local businesses to contribute so that costs were reduced to a minimum. Many generous cooks prepared a magnificent feast and lucky door prizes and a raffle were courtesy of donors. Two dedicated McAuley Catholic College students provided music and others assisted in serving cups of tea. When the sun began to blaze, trees became a refuge and the RTA marquee (donated) that was sheltering such an array of cakes and slices provided more shelter from the heat. In all, guests seemed to have a memorable morning and raised money for Mercy International Centre at the same time.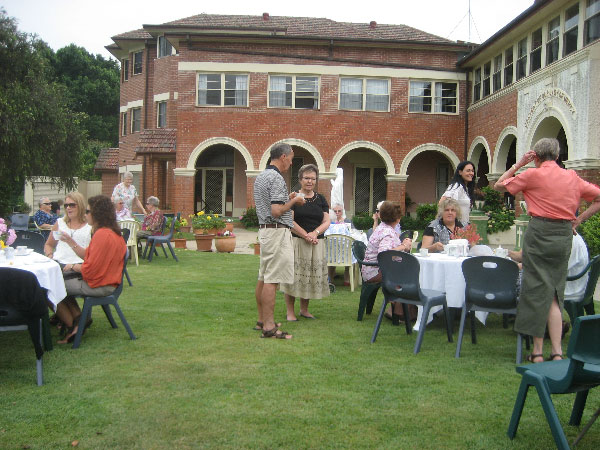 West Perth International 'Good Cup Of Tea' At St Brigid's Convent Garden
In the Convent gardens of the West Perth Congregational Office a wonderful morning was had by all the visitors who gathered under blue umbrellas to enjoy a very friendly morning tea. The weather was perfect and the catering of sandwiches, cakes, and slices very delicious. Approximately 75 people were present and were very willing to contribute to the cause of Mercy International Association. Beverley began the proceedings with the story of the background to the event.
There was a pause at 11.00am to remember the fallen from the First World War. Paula and friends ran a very lucrative raffle and altogether a tidy sum was collected.
We would like to thank Jan, Jilyan and Mary and their many helpers and all of the visitors for their presence. People left with the question on their lips "when is the next one?".