Archived News Item
THE FUTURE SPIRIT OF MERCY – YOUNG & ENTHUSIASTIC
April 30, 2015
On Sunday the first of March, around 30 young adults came together to form Young Mercy Links (YML) 2015. The group – consisting of 16 current members and 14 new, are already proving themselves to be passionate and committed to justice and Mercy.
The day began with an introduction and brief history from Margaret Moore, RSM, and Bernadette Inman, the YML coordinator. Jessica Luna and Ally Salviani (Mercy College Coburg, 2013) then ran some entertaining ice-breaker activities, that allowed the new and established members to get to know each other. Marg went on to speak to us about where we 'put our feet down', in the context of our identity and how they could find and nurture their heart of mercy.
In a group discussion we spoke about what draws us to this group. There were common themes in the responses about wanting to look beyond ourselves, a desire to connect with like-minded people while continuing our journey in Mercy beyond secondary school. We talked about who the people and groups would be today that Catherine McAuley would feel compelled to work alongside.
Rachel Prince and Adria DeFazio (The Academy of Mary Immaculate and Mercy College Coburg) told us about their incredible experience in Dublin in 2014 at the Mercy leadership conference. The girls shared with us their insight as to the pivotal role that Mercy has played in shaping who they are.
After a delicious lunch in the autumn sun, Mairead Kennedy (Sacred Heart Kyneton) got everyone thinking about the things our group does well and ways we could improve. There was a definite buzz in the room as people shared their thoughts and vision for YML.
We heard from Danusia from St Vincent de Paul soup vans, who gave us some background about the vans and shared some of her own experiences and advice for when we go out on Thursday nights. Kathryn Dowling (OLMC) and Adrian Dezordi (St Aloysius) gave us a brief rundown as to what to expect at the Thursday volunteering sessions at North Melbourne.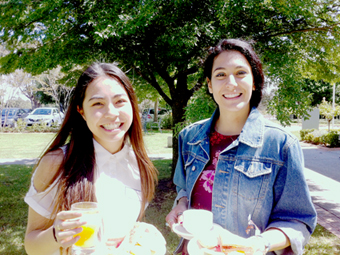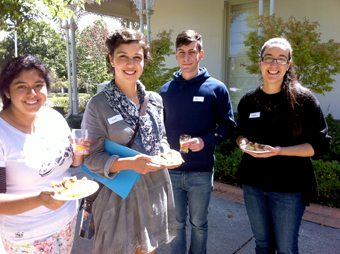 The day concluded with a moving reflection prepared by Marg, and with members signing their commitment forms and planning our next gathering.
Messages to: Bernadette Inman – Coordinator