Archived News Item
The experience of urban poverty in PNG
December 3, 2007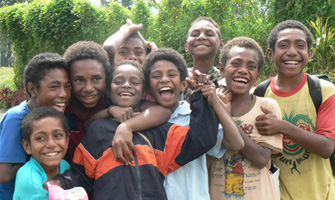 Goroka is situated within the Highlands of Papua New Guinea (PNG). In recent years, rapid urbanisation has contributed to an increase in crime, unemployment and clan rivalries. This is particularly so in the settlement areas within and surrounding the town. The Mercy Works PNG Project, established in 2006, seeks to address some of the disturbing issues that threaten the stability and livelihood of people in this area.
Francesca was 16 when she married Paul. Both were unemployed and living in one of Goroka's settlements. They had two children, the eldest of which was taken by Paul's mother. When the second child was four months old, Paul left Francesca, so she went to live with her father, also unemployed. Francesca, now 24, is bringing up her daughter on her own. She has tried to contact Paul but has received no response since 2004. In order to feed her child and survive, she resorted to prostitution ("selling skin"). As a result, she became pregnant and infected with a sexually transmitted disease. Traumatised, she tried to abort the baby and threatened suicide. Recently, Francesca heard that Paul was aware of her pregnancy. He sent word through other people that he would kill her upon his return to Goroka. She is in fear of her life.
Twenty-year old Jerry lives with his family on one of the settlements outside Goroka. He has a history of stealing and drug use. At age 13 or 14, Jerry started smoking marijuana and left school. Now, he depends on drugs to live and spends most of his time with friends who use drugs extensively. Jerry is conscious that he gets angry more quickly these days and fights with his family, especially his parents, both of whom are unemployed. What little they have he steals in order to pay for his drug habit. He is ashamed of his actions and sometimes feels like killing himself. He doesn't want to use drugs but realises that drug addiction has taken hold of him, causing problems for himself, his family, friends and community.
Francesca and Jerry's tragic experiences of life are not unusual for young people in PNG. Unemployment, violence, drug addiction, sexually transmitted diseases, prostitution, unwanted pregnancies and poverty are among the many seemingly insurmountable problems facing the people.
Goroka is situated within the Highlands of PNG. Rapid urbanisation has seen an increase in crime, unemployment and clan rivalries. This is particularly so in the settlement areas within and surrounding the town.
Unemployment, with the associated loss of income, dignity, sense of identity and belonging, has eroded the position of men within the family. Consequently, anger, frustration and hopelessness find release in violence, rape, drug addictions, gambling and illegal activities. Women turn to prostitution to feed their children and send them to school.
Goroka reflects the trend in most of PNG. Serious problems of governance, corruption, law and order, and a growing HIV-AIDS epidemic have had a disastrous effect on the development of Australia's nearest neighbour.
To meet many of the social, education and health needs of its population, the PNG government is heavily reliant on churches, non-government organisations (NGOs) and faith-based groups such as the Sisters of Mercy.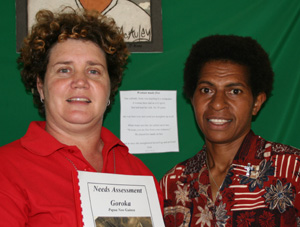 Gaye Lennon (pictured), a Sister of Mercy of the Gunnedah Congregation, is directing the Mercy Works PNG Project in collaboration with PNG National Sisters Maryanne Kolkia (pictured), Theresia Boyek and Robina Einde. The project was launched in response to the needs of the local people. After extensive consultation with the community, a range of issues were identified, but according to Gaye, the initial focus is on addressing the increasing problems of unemployment, domestic violence and HIV-AIDS.
"It is crucial to focus on young people because they make up about half of the population", she says. "Young men and women between the ages of 15 and 25 are our primary target group. Where possible, the needs of children between 8 and 15 will be met. This is done within the context of the community so we encourage the participation of older community members."
The sisters have established a drop-in and referral centre in Goroka which offers training programmes and support groups, and provides advocacy on behalf of individuals. This community space provides an opportunity to reach out to young people and communicate important information about human rights, domestic violence, reproductive health, HIV-AIDS and addictions.
"Follow-up to training is an integral component of the programme", says Gaye. She explains that this includes home visits to maintain personal contact and to organise times for future training and support sessions.
The sisters also conduct sessions at the Bihute Women's Prison near Goroka. Here the women are offered skills training and awareness raising activities twice each week so that when they are released from prison they will be better equipped to deal with life in their communities.
The work of the centre has become widely known in Goroka, resulting in requests from villages and outlying areas for similar support programmes. Having established the project in Goroka, the sisters are now in the process of setting up similar opportunities for the people of Mount Hagen.
While the main focus of the project has been to respond to issues of concern identified by the Goroka community, it has a further secondary but important aim, to equip the PNG national sisters with the skills required to develop and manage community projects now and into the future.
For Francesca, Jerry and many others like them, the support and training opportunities available through the Mercy Works PNG Project are vital. The project is enabling young women and men to move beyond their difficult circumstances and find some hope in the future.
About Mercy Works Inc.
Mercy Works Inc. supports the local and overseas relief and development activities that are part of the vision and mission of the Institute of Sisters of Mercy of Australia.
The programmes engage in partnerships with communities to promote justice, self reliance and to support displaced people and communities who are denied access to basic resources such as education, health care and social welfare.
The Mercy Works PNG Project has been made possible through the support of Caritas Australia, Caritas New Zealand, the Sisters of Mercy of the Gunnedah Congregation, Australian Volunteers International and one significant donor in Australia.
Would you like to partner with Mercy Works Inc. to support community development initiatives in Goroka and Mount Hagen? Find out more.