Archived News Item
Damascus bids farewell to Marie Davey rsm
December 15, 2017
After 53 years of dedicated service to Catholic education, Damascus College has celebrated and acclaimed the enormous contribution of Marie Davey rsm.
On Friday December 1, more than 250 people attended a function to wish Sr Marie well for her retirement from education.
Sr Marie was the Deputy Principal of Damascus, and is also the former Principal of Sacred Heart College and a teacher at St Columba's Primary School and Catholic secondary schools in Warracknabeal and St Arnaud.
Sr Marie is the youngest member of her family, with five siblings, her father a train controller and her mother was a homemaker until she went back to work later in life.
"I was born and raised in Ballarat, and my one career has been as a teacher.  I enjoyed working with children and studied teaching at Sacred Heart Teachers' College which later became ACU Ballarat Campus," she said.
Upon graduation Sr Marie's first teaching class was Grade 3 at St Columba's in 1965, she then moved on to secondary education in Warracknabeal in 1970.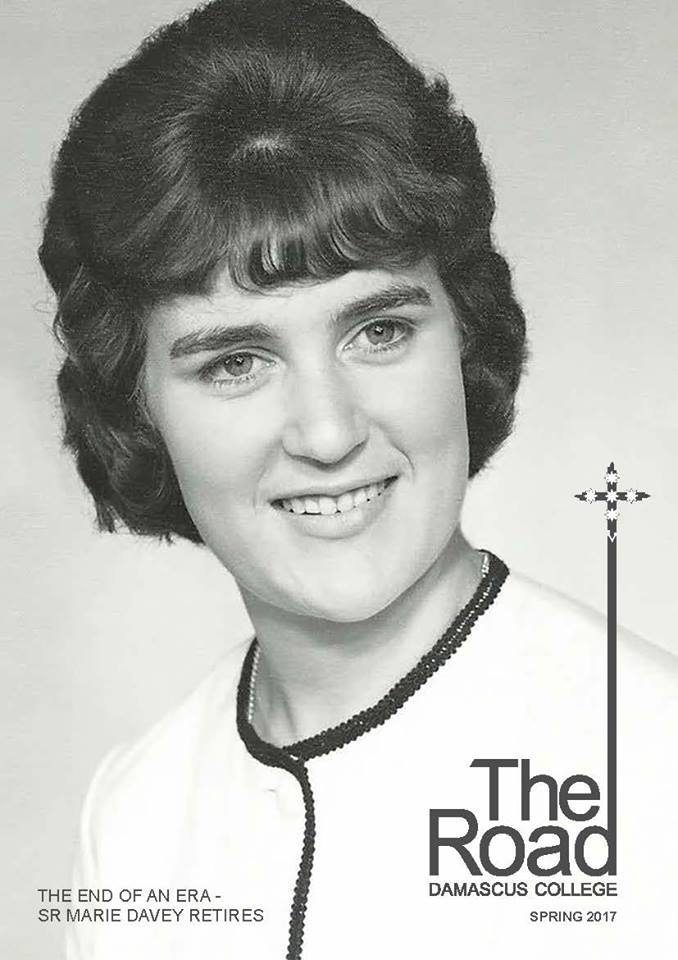 "It is such a long time since I began teaching I have since taught the children and grandchildren of those that I first taught in those early years."
Sr Marie joined the Sisters of Mercy as a postulant on 17 March, 1965 and was professed as a Sister of Mercy on 10 February 1968.
"As a teacher, I began as 'Miss Davey' and then became 'Sr Marie' later that year.  I fleetingly considered joining a Missionary Order which would have taken me to far off lands, but I decided my calling was to the local area and opted for the Sisters of Mercy, Ballarat East.  I have not regretted that decision." she said.
"I love working with young people and I hope that I have made a difference in their lives as they have in mine."
"One of the things that I am most proud of, is the establishment of Damascus College to be the wonderful place that it is today.  This wasn't just me of course, but I would like to think I had some influence as we struggled through our early years."
Sr Marie shares parting words and a piece of advice for students, staff, parents and members of the Damascus community.
"Keep putting the best of yourself in to whatever you do.  The family and the school have to work together for the sake of the students.  I think our Teacher Advisor system gives us a great foundation to do this but it does take commitment from every individual to get the best out of it."
"Looking back on my life, I have no regrets – I'd do it all again – probably a bit differently, and so better at times, but ultimately I'm happy with my life and comfortable with who I am."
Principal, Matthew Byne said that the Damascus students, staff and wider community wish her the very best in a well earnt retirement.  It is well known that the Damascus community will miss her energy, commitment, passion and quiet unassuming nature.
"Good luck Sr Marie and thank you," he said.
Video tribute to Sr Marie Davey from the students of Damascus College:
Messages to: Sarah Boswell, Damascus College