Archived News Item
The difference that one person can make
June 15, 2011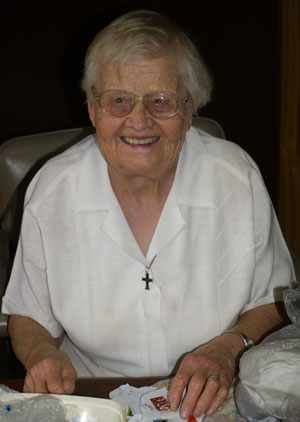 When Sister of Mercy, Mary Hunt (pictured) was a young girl she wanted to be a missionary nun. While Mary's dream of ministering overseas didn't eventuate, she continues to make a significant contribution to the lives of many people in impoverished communities like Papua New Guinea and Timor Leste through her fundraising efforts for Mercy Works.
Since arriving six years ago in Yarrawonga, a small town on the Murray River in Victoria, near the New South Wales border, Mary has raised much-needed funds for community development projects by collecting and selling stamps – not the rare, collector types, but your average used and franked postage stamps fixed to letters, postcards and packages.
Mary's wonderful endeavours are known to people far and wide. She has a network of people from different parts of Australia, including many Sisters of Mercy, who regularly send her stamps knowing they will be used for a good cause. "Only once can I remember running out of stamps," she says.
Each day Mary works for about two hours preparing the stamps for sale. She carefully removes the stamps from their envelopes leaving about a one centimetre border of paper. The aim is to reduce excess paper around the stamp without damaging it because the stamps are sold on a price per kilogram basis. Then she painstakingly sorts the stamps into categories. Overseas stamps are especially valuable.
After the sorting and preparation process is finished, Mary puts the stamps into bags weighing one kilogram each. She usually waits until she's collected about seven or eight kilos before sending them off for sale to a stamp collector in Kyneton, Victoria.
To maximise the profits, Mary doesn't post the bags of stamps; she sends them via a Sister of Mercy or anyone who might happen to be visiting Yarrawonga and heading in the direction of Kyneton!
"It's not hard work," says Mary, who turned 87 earlier this year. She explains that she's "in the retirement age group but not really retired" and while she has the ability to help out she will.
As a lovely gesture, each time a person or group sends Mary a package of stamps, she writes a personal letter thanking them for their generosity. "It's the least I can do," she says.
If you who would like to contribute to Mary's fundraising efforts for Mercy Works, please send your used stamps to Sister Mary Hunt RSM, Sisters of Mercy Convent, 12 Coghill Street Yarrawonga Victoria 3730.