Archived News Item
The Celebration of 100 years of Mercy Ministries in Goodna
August 23, 2011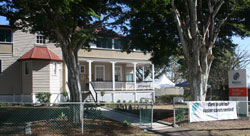 The building that was constructed as St Patrick's Convent for the Sisters teaching at St Francis Xavier School in Goodna is 100 years old. On Friday 5th August 2011 Mercy Family Services celebrated 100 years of Mercy Ministries in Goodna.
Over the past 18 months we have been fortunate enough to be able to have the building painted and renovated inside and out to bring it back to its former glory.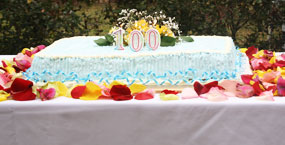 In celebrating the 100 years we were keen to highlight the ability of the Sisters of Mercy to respond to the emerging needs of the times and in so doing living the mission of Catherine McCauley.
A display was set up in the Chapel Room of the house to illustrate the changes that occurred to respond to these needs.
1911 to 1986 the sisters lived in the convent and taught in the school;
1986 to 1996 the building was used to house Vietnamese young people who arrived in Australia without family support;
1996 to present various programs have been run from the house including: Unaccompanied Humanitarian Minors; Reconnect; Men & Family Relationships; Foster & Kinship Care and Sexual Abuse Counselling.

Currently, MFS Goodna has 12 staff: a manager, co-ordinators, case workers, counsellors, support workers and an administrative worker.
The celebration commenced at 11am with visitors being welcomed on the front veranda by present staff and a string trio playing soothing background music. Visitors were shown through the house and offered morning tea.
At 11:30 Steven King, Executive Director, Mercy Family Services, welcomed our distinguished visitors: Sr Mary Lawson, Sr Margaret King, Sr Jean Gromley from the Congregation Leadership Team, Jo-Ann Miller, Member for Bundamba, Paul Tully, Ipswich Counsellor and Brooke Winters, Regional Executive Director, Department of Communities, Sisters of Mercy as well as about 60 colleagues and carers.
Sr Mary addressed the visitors and explained that the Sisters of Mercy are this year celebrating 150 years in South East Queensland. Sr Mary gave an interesting account of the achievements during this time as well as stories of sisters who had lived in the convent, some of whom were present on the day.
Other speeches were delivered by Brooke Winters, Tricia Sheahan, Manager, Mercy Family Services, Goodna, Jo-Ann Miller with Sr Margaret King providing a blessing.
A light lunch was enjoyed as visitors chatted, exchanged memories and networked to the sound of the musical trio. A most enjoyable event.