Archived News Item
The Call of Catherine and Mercy
October 29, 2014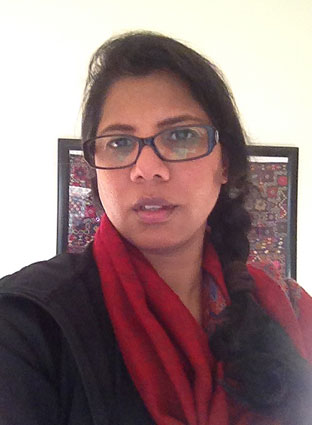 I am a Pakistani-Australian Sister of Mercy. I was born, bred and educated in Pakistan. I am one of the six children in my family. My parents are faith filled God fearing people. My parents provided us with everything they had missed on, being orphans, and made sure that all six of us had equal opportunities in regards to education.
Education was much valued in our house unlike the culture I lived in. Educating women in my culture is considered wasting time, energy and finances. The real house of a woman is with the man she will be married to and with her in-laws. Hence a woman is considered a property and honour of a man. Birth of a female child is considered a huge responsibility and a burden.
The neighbours and friends of our family used to take pity on my father for he had five daughters and each daughter had to be married and given a dowry. The discouraging words that used to be said to my father were 'do not waste money on your daughters by sending them to good schools.' I feel so blessed to have a father who believed in the power of education and who had courage to stand his stance against all odds.
In Pakistan the condition of women and children, regardless of what religion they belong to is hard, especially if they belong to a struggling class of the society or if they belong to one of the minority religions. In my younger age I never gave much thought about how the life and treatment of the majority Muslims was different to the life and treatment of minority Christians. It was normal that minorities had lesser rights than the majority Muslims. In my growing up I was naïve and could not comprehend that all people are not equal. The wisdom of seeing the discrimination and desiring to do something for the uplifting of the minority class inclusive of all women and children in Pakistan grew stronger in me. The challenge to live in a discriminatory environment further strengthened my belief in Education.
I had this burning desire to do something for my country and to live my truth. I went to the southern Province of Pakistan, Karachi to get my tertiary education and to be a trained teacher. The Sisters of Mercy from Australia were administering the College and thus my introduction to Catherine McAuley. I read about Catherine McAuley and identified with her. Catherine worked for the downtrodden of the society and responded to the needs of women who were marginalised and oppressed in her time in Ireland. I was surprised at reading her life…the similarities of Ireland in 18th century was not much different to condition of Pakistan in 21st century. Catherine's story could have been story of my country. I wondered what would she have done if she was in Pakistan? After completing my degree I had to go home to convince my family of my desire to join the Sisters of Mercy. The immediate response was NO and I was told there would be no further discussion on the topic. I was surprised at the response of my parents. But I was persistent and finally my parents gave me their blessings which gave me great satisfaction and encouragement.
I wrote to the sisters and requested to join the Religious Congregation of Sisters of Mercy. The congregation allowed me to join the group within the Sisters of Mercy of the Melbourne congregation for work in Pakistan. Joining a Religious order opened opportunities for me to work with the poor of my country. Working in the education field gave me immense hope for education seemed to be the answer to help my fellow Pakistani women. The belief passed on to me by my dad that education will bring change was confirmed and affirmed. I helped in training the teachers in financially struggling schools by providing opportunities for free of cost training to raise the standard of education. Also, there was the opportunity for bridging the gap between the rich and poor by bringing rich friends to visit poor and not to take pity or help them in-kind but to be with them and share stories.
Unfortunately the political situation of Pakistan changed and the country became volatile. Bomb blasts became common occurrence. The Australian Sisters of Mercy living in Pakistan had to return to their country. Any white face in Pakistan was considered to be an agent of America. The presence of sisters in Pakistan was becoming a threat to the life of the Sisters and for the people living with them. All these events led to the question of my future as a Sister of Mercy in Pakistan. By this time I had taken my first vows as a Sister of Mercy and my vows were to be a Sister of Mercy within the Melbourne Congregation for Pakistan. I was asked either to leave the congregation or come out of the country and be an Australian Sister of Mercy. I wrestled with the decision whether to leave behind my country, my people, my homeland, all that I knew and loved and go to another country and call it home. The struggle of the time – what is God asking me? What is my country asking? I struggled with my feelings – wanting to stay in the country in the place I had grown up in. I was torn within myself…what to do? Leave? Stay? If I left I would be like many others who have had education, yet have lost hope in the political system of the country and migrated to developed countries for better opportunities. If I stayed I would never have a chance like Catherine McAuley to help the downtrodden and oppressed class of my fellow women. With encouragement of the Spiritual Director and through prayerful reflection and discernment I decided to leave my country. At the back of my mind was the verse from the Acts of Apostles 7:3 "Leave your country and your people and go to the land I will show you."
I came to Australia in September, 2009. I worked as a volunteer worker in Regina Coeli, which is now called McAuley House, a place for homeless women. I joined the Academy of Mary Immaculate Learning Support Team in August, 2010 as a volunteer worker for three days a week. I have since been involved in teaching at the same school. I have been also privileged to be a member of the 'Seeds of Justice' committee and have met different students from different schools on 'Seeds' gatherings. I have realized the experiences and realities of school whether in a developing or a developed country are the same. The universality of classrooms and student behavior has never failed to impress me.
Now I appreciate the wisdom of leaving the shores of my land. The love of my homeland is deepened and I appreciate the freedom of my new country. I am not an education activist but news from my country of a young education activist, Malala Yousafzai, is heartening and uplifting. Malala Yousafzai has been a prophetic figure since the young age of 12 and not afraid of Talibans, who are in the majority in Khyber Pakhtunkhwa, a very conservative province of Pakistan. The incident of Malala speaks volumes of God's Grace and human effort. The wisdom, courage and resilience Malala has shown is not only a human effort but of divine assistance. Malala and many silent Malala's of Pakistan are a symbol of opposition to the negative drive of the Taliban to deny education for women in Pakistan and the negative forces working in Pakistan. I feel I am called to this journey not just for my own personal growth, but also for the sake of the whole human family.
Messages to: Anila Isaac rsm