Archived News Item
The Blake Book
September 22, 2011
The Blake Book, 1951 – 2010, 60 Years of the Blake Prize for Religious and Spiritual Art. Rosemary Crumlin. Macmillan Art Publishing: Victoria.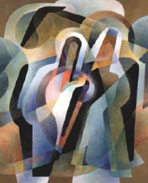 Rosemary Crumlin RSM launched her latest book, The Blake Book, recently in Sydney in conjunction with the opening of the 2011 exhibition. Documenting the past 60 years of art, religion and spirituality in Australia as seen through the history of The Blake Prize, the book is a valuable social commentary. It traces significant developments in art movements, with artists themselves telling of what has influenced their entries. Much of this material has come from Rosemary's conversations with the artists. The book also records major changes in attitudes to justice in this country, and to the expansion of ideas of religion and spirituality. Most of all, it is a beautiful book, with over 250 images, a rich source of material to invite discussion and reflection.
The book will be made available at a special, once only (author's) price to Religious in Australia until 11 November 2011. (rrp $70)
TO ORDER: Send a cheque for $62.55 ($50.00 + postage $12.55) payable to SISTERS OF MERCY to Sr Pauline Smith, 2/23 Lovell Rd, Denistone East 2112.