Archived News Item
THE BILUM: June 2010 available
June 10, 2010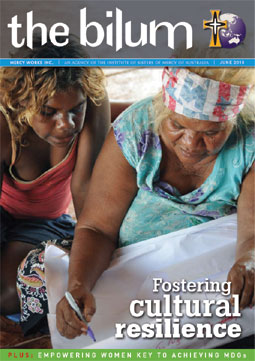 The June 2010 edition of The Bilum, the magazine of Mercy Works Inc., has been posted out to members, donors and friends of the agency. The entire magazine is also available online in PDF format or you can download individual stories.
Our cover story focuses on Indigenous Australia. Despite decades of policy interventions by Australian governments, Indigenous Australians continue to suffer extreme disadvantage and poverty. But in one of Australia's most isolated Indigenous communities, a group of Aboriginal women elders believe they have the answer.
In September this year, world leaders will gather in New York to renew a commitment they made in 2000 to achieve the Millennium Development Goals (MDGs) and halve world poverty by 2015. With only five years to go, can we still meet that deadline? Cathy Solano RSM, Mercy Works Inc.'s Community Education Officer, believes a crucial factor in realising all the MDGs is to realise MDG3 – to promote gender equality and empower women.
Mercy Works Inc. often gets requests from schools, parishes, community groups and businesses asking how they can help specific community development projects. We've outlined four projects that need urgent assistance. Can you help?
This edition also includes our regular sections: From the EO, News, Update, Speaking From, and In the Community.
We hope you enjoy the range of stories and issues covered. Any feedback would be greatly appreciated! Email us.