Archived News Item
THE BILUM: December 2010 available
November 4, 2010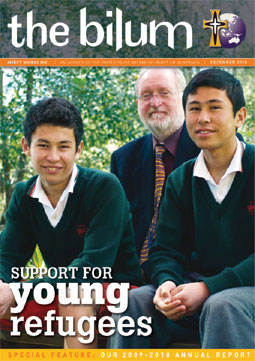 The December 2010 edition of The Bilum, the magazine of Mercy Works Inc., is available online in PDF format or you can download individual stories.
Our cover story focuses on the needs of young refugees recently arrived in Australia. Having fled their homes to escape persecution or conflict, many refugees face another set of challenges in their new country.
For young refugees like David and Mohammad, the transition into Australian school life is often overwhelming. Find out how Mercy Works Inc.'s Classroom Connect project is helping to lessen the load.
We publish our Annual Report which provides a snapshot of our work in Papua New Guinea, Timor Leste, Pakistan and Australia during 2009-2010.
This edition also includes our regular sections: From the EO, News, In Focus, and In the Community.
We hope you enjoy the range of stories and issues covered. Any feedback would be greatly appreciated! Email us.