Archived News Item
The Australian Connection
October 28, 2013
WILLIE MACAULEY – resting in peace at Bogan Gate!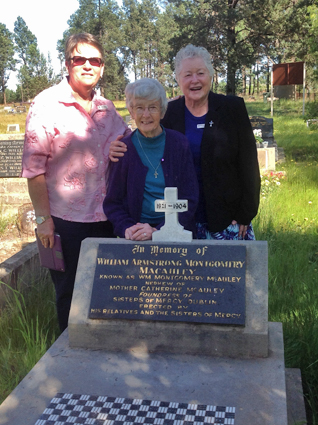 A visit to a cemetery is usually quite sobering. The small inscription on a headstone, rarely captures the richness and complexity of the life it commemorates.
On 22 September, in Parkes NSW, prior to the ceremony wherein each received her copy of the newly revised Constitutions for the Institute, a number of Sisters of Mercy took the 20 minute drive to Bogan Gate outside Parkes, to visit the grave of William Armstrong Montgomery Macauley aka "Wild Willie" – the nephew of our Foundress, Venerable Catherine McAuley.
Willie Macauley, the son of Catherine's sister Mary, and her husband William Macauley, left London on 26 December 1838, feeling misunderstood and unforgiven by his beloved aunt and grief-stricken at the death of his older sister, Catherine in 1837.
His aunt Catherine died not knowing Willie's whereabouts, as he was assumed to have been lost at sea. At the time of her own death in 1841:
"…she little dreamed that Willie would live to be eighty-three or that she would one day have thirteen grand nieces and grandnephews in faraway Australia…Willie's is a complicated human story, involving conflicts between his understandings and certain facts unknown to him, as well as between Catherine's understandings and certain facts unknown to her…"
Mary C Sullivan "The Path of Mercy -The Life of Catherine McAuley" pp 244-246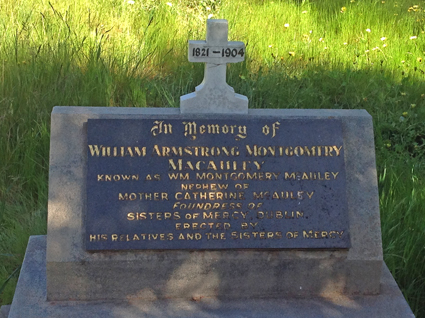 Our visit, gave us pause to reflect on " the path of mercy" which each of us follows. How easily, a misspoken word or a lack of empathy for the other can have such long term and emotionally scarring effects!
Gathering around the simple grave we reflected on the likelihood that Willie's and Jessie's life, together with their thirteen children was one of hardship and privation. For Willie, it included estrangement from his family and homeland – a story, so familiar today in Australia.
We expressed our gratitude that he now lies "in the bosom of a friendly land," and told him that his Aunt's "daughters" the Sisters of Mercy along with his large and extended family, continue to remember and celebrate the gift that the McAuley family has given to the world – Catherine, our Spirit Mother!
Postscript
William McAuley married Jessie Tomkins, a Tasmanian girl and they settled for some time in Colac, Victoria. Jessie is buried in Colac. The small plaque on her grave reads "Jessica Laura McAuley, Died June 17, 1896. Requiescat in Pace". One of their daughters, Frances McAuley, entered the Sisters of Mercy Convent in Kyneton on September 24th, 1891 and was received into the Congregation on March 25th, the following year and given the name in religion of Sr. M. Catherine. She made her profession on April 17th, 1894 in St. Mary's Church in Kyneton. But that is a story for another time.
Messages to Anne McGuire rsm