Archived News Item
Thank You and Farewell
June 30, 2014
In April of this year Sr Rose Glennen rsm retired from work at CatholicCare NT. As a still relatively young organization, this year we have been operating for 21 years, this is the first time we have actually had someone retire.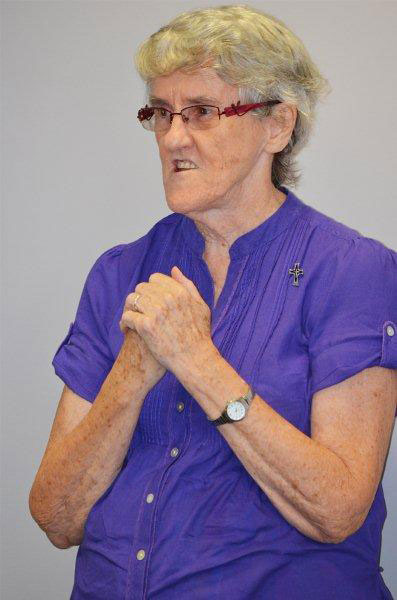 Sr Rose started work here back in January 2001 and was employed at a time when we were still very small; we didn't have things like policies and procedures, strategic plans or any real systems to speak of. Sr Rose had a strong education and administration background and thus began the work of developing the infrastructure of our organization. In addition to these practical skills, the other role for Sr Rose was to help develop and integrate a culture and mission that aligned with our Catholic tradition. Overtime the role developed into a Senior Leadership position focusing on mission and culture.
It is difficult to really honour and acknowledge Rose's contribution in a simple farewell speech (and this has been edited for print!). Many people who come to the Territory do so for the experience, or out of curiosity, a stepping stone on the way to real life and a real career down south. For me Sr Rose's contribution, aside from her experience and expertise, has been her commitment to stay, to be part of the journey, to play a supporting role to me and to my position. It is not a glamorous role; Rose worked with me through all the hard and messy stuff, advising on difficult situations and walking with us as at times we found ourselves in complex situations. Sr Rose's accomplishment is that she stayed and that she enjoyed it and that she made a difference. It sounds dry to say that Rose developed our Corporate services, or has been instrumental in developing our first and subsequent strategic plans but these are all really important things that laid the foundation for CatholicCare and allowed us to grow and make a difference. My journey so far in this organization has always been with Sr Rose by my side, she guided me and supported me.


Rose is unique, a champion for justice and role model for strong women. She provided a face of the Church that was real and that people could relate to and she challenged our staff to think differently about Church and faith. Sr Rose has had a lifetime of commitment of service which she has chosen to express through religious life. We are fortunate that we have been able to benefit from Rose, her wisdom and her knowledge. Fortunately for us Sr Rose will continue to live in Darwin and will no doubt maintain an active interest in our work.
Jayne Lloyd – Director CatholicCare NT
Messages to: Rose Marie Glennen rsm