Archived News Item
Take on the challenge to be a global citizen
February 15, 2010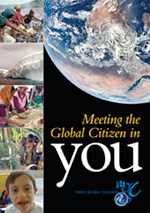 Mercy Global Concern (MGC), the organisation representing the Sisters of Mercy at the United Nations, has produced a new publication that explores what it means to be a global citizen in a vulnerable world and in a wider cosmos.
Published in January 2010, Meeting the Global Citizen in YOU is a very accessible pocket-sized resource and would be of great benefit to teachers, students, faith-based reflection groups or anyone interested in making the world a better place.
"We are delighted that Bishop Desmond Tutu has written the Foreword to our publication," said Deirdre Mullan RSM, Mercy Global Concern's Director.

Bishop Tutu writes: "Close to my home in Soweto, the Sisters of Mercy are a community of religious women who, like their many confreres worldwide, aspire to 'walk the talk' and who daily try to bridge the gap between policy and practice.
"As the retired Archbishop of Southern Africa, I am happy to endorse this little pocket book on Meeting the Global Citizen in YOU and hope that it will go a long way in helping students, teachers, and, indeed, all of us, to become Ubuntu persons – that is, persons who are welcoming, hospitable, warm and generous. Human beings who are open and available to others and willing to be vulnerable. An Ubuntu person is affirming of others and knows that he or she is oppressed when others are humiliated, oppressed or treated as less than their common humanity deserves…"
HOW TO ORDER Meeting the Global Citizen in YOU
Contact Deirdre Mullan RSM at Email: mercyun@aol.com
State clearly the number of books required.
Books cost US$5 plus postage. For over 100 copies, books cost US$4.
Cheques for books are payable to Sisters of Mercy INC
Provide a return address for the books.