Archived News Item
Take action about human trafficking
April 22, 2010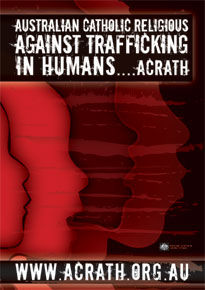 The issue of trafficking in humans and the work of ACRATH was the focus of a discussion group at last year's Mercy Justice Conference. Trafficking of humans affects every region of the world and generates tens of billions of dollars in profits for criminals each year. Find out how you can be more informed and take action just like one of last year's conference delegates has.
Australian Catholic Religious Against Trafficking in Humans (ACRATH)
ACRATH has some resources available. View the "Trading Lives" videos produced to highlight this issue and the activity of ACRATH. A series of posters are also available for use in workplaces, schools or community groups to reflect create awareness of the issue of trafficking in humans.
The Annual General Meeting of ACRATH was held on February 9-10 at the Chevalier Centre in Kensington, Sydney. About 35 ACRATH members from across the country attended the two-day meeting which saw the further development of both State and national agendas and a great sharing of progress and challenges. The meeting included the election of the executive: Louise Cleary CSB (Chair), Mary Mooney CSB (Secretary) and Joan Murphy RGS (Treasurer).
Do you want to know more about trafficking? Check out the ACRATH toolkit here.
AVAAZ
AVAAZ is a global web movement with a simple democratic mission: to close the gap between the world we have and the world most people everywhere wants. A delegate from last year's Mercy Justice Conference is encouraging people who are concerned about the issue of trafficking to support the current campaign by AVAAZ. Read more about this campaign: "Fight the Rape Trade". Millions of women and girls are abducted, terrorised and sold for rape every year. Follow this link.
Fairtrade
Buying Fairtrade products makes a real difference for the Fairtrade farmers, workers, their families and communities in developing countries. Receiving a fair and stable price for their products ensures a better life for their families and communities. Fairtrade Fortnight is on from May 1-16. Follow this link.
Check out the Edmund Rice Centre Fairtrade Programme and the Good Shepherd Trading Circle.
Contact: Carmel Heagerty RSM, Institute Justice Co-ordinator
Email: Institute.Justice@mercy.org.au