Archived News Item
Sydney students connect with NSW outback community
February 11, 2010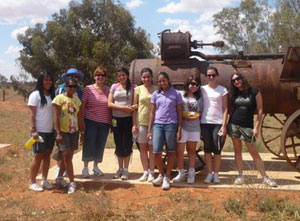 Late last year, eight Year 9 students from Catherine McAuley Westmead in Sydney, made the 965km trek to Wilcannia in north-western NSW where they spent two days with the largely Indigenous community. This "immersion experience" is a new initiative which forms part of the school's commitment to social justice. Helen Law RSM (Parramatta), the school's Family Liaison Facilitator, reports.
In late October 2009, Catherine McAuley, Westmead initiated a programme of immersion into an Indigenous community. This experience was to be an integral part of our fundraising efforts for the final term of the year.
The immersion experience was to St Therese's Community School, Wilcannia in far western NSW. St Therese's is an infants' school catering for children in kinder to Year 2 from the local community who are mainly Aboriginal children. St Therese's was selected as it came to our attention through the MAGNET group which is co-ordinated by Margaret Sheppard RSM for post-school Mercy women.
Throughout this year, Catherine McAuley has had a programme of fundraising focusing on various works and ministries of the Sisters of Mercy. This focus includes Caritas in term one, the mission of the Australian Mercy Sisters in Peru in term two, Mamre House in term three and an Indigenous community in term four.
We are very aware that in helping to develop an awareness of social justice issues in our young Mercy women we need to facilitate something more than just money raising. Thus the possibility of an immersion experience came to birth.
We decided to target Year 9 students. Through a process of selection, in which the applicants had to state their reason for wanting to go to Wilcannia, as well as how they might be able to bring the experience back in to the school community, we selected seven girls – one from each homeroom – as well as including the assistant social justice leader as the eighth participant.
Several lunchtimes were devoted to briefing the girls on the geography and landform of the area, various elements of a culture different from our own and the values of respecting differences, listening and treating others with courtesy and compassion. It was also important to introduce the girls to the concepts of culture shock and reverse culture shock.
So it was with great excitement and an air of expectancy that the eight students and two teachers – Teresa Wilson and me – from Catherine McAuley embarked on the journey from Parramatta to Wilcannia, a trip of 14 hours including two modes of transport, rail and coach.
Around dusk, several hours west of Cobar and ten hours into the journey, one girl was heard to remark, "By this time we'd have been around Lebanon four times!" However, we did eventually arrive in Wilcannia around 9pm to be met by Margaret McGrath RSM who took us to St Therese's where we found our accommodation for the next two days, had a "comfortable cup of tea" with Margaret and Flo Kinsella RSM, and fell in to bed wondering about what would be awaiting us the next day.
Already every experience had been a 'new' one for all of us and the next two days did not disappoint in this regard. From after breakfast until well into the evening we washed red dust off curtains and classroom computers, went in two combie buses to collect the children and bring them to school, attended early morning classes and activities, assisted at the town markets, gave an interview on the local radio, and visited the Wilcannia Central School.
We were also treated to several town excursions in the bus driven by Emma including a tour of the local hospital, visited the artist Karin Donaldson, and listened to traditional stories told by the Elder Waddy who is also a master craftsman. We purchased a Coolamon carved by Waddy for use during liturgies at Catherine McAuley.
Flo also took advantage of our presence and we assisted around the convent with cleaning and putting 'red' earth on the patch of grass she was trying to grow at the back door. "Hope springs eternal"!
Other highlights of our visit were to listen to Janine, a teacher's aide at St Therese's, whose mother had been a member of "The Stolen Generation", and to participate in "Night Patrol", a community service sponsored by the Attorney General's Department which aims to get people off the streets after 9pm at night and return them safely to their homes.
Most of us spent the day sleeping on our return trip home. We had so many happy memories of our time among the community of Wilcannia and it was very hard to say goodbye. Most of us promised the community we would return some day. We had learnt so much, not just about the people but about ourselves as well.
During our days in Wilcannia, the girls had been encouraged to journal, and time was set aside each day for quiet reflection and recording of experiences and reactions. After our return to school, the girls were to hand in a reflection paper. We also had one debriefing gathering at lunchtime on a designated day as well as a short ritual and recounting of experiences with the leadership team.
However, all was not finished! As it was the turn of Ryan and Clare Houses to fundraise for an Indigenous community during term four, a "So You Think You Can Dance, McAuley?" competition was organised as a fundraiser for shade cloth for St Therese's Community School. After several heats were completed, we had a Mufti Day at school where we were to wear the colours of the Aboriginal flag and view the finals of the "Dance Off". It was a great fun and community afternoon for all, including staff who participated with an item of their own.
The girls who had gone to Wilcannia – the "Sydney Mob" as they came to be called around the town – made and sold red, yellow and black ribbons as their contribution to the day's activities.
Finally, a cheque of a significant amount was sent to Margaret McGrath RSM as our fundraising effort at Catherine McAuley for term four.
The immersion experience has been successful in so many ways that we have programmed it into our school calendar for 2010. The association we have formed with St Therese's Community school is, we hope, an ongoing connection that brings greater life and awareness for all of us here at Catherine McAuley, Westmead.
From: Helen Law RSM (Parramatta), Family Liaison Facilitator at Catherine McAuley Westmead