Archived News Item
Sydney farm project helping African refugees re-settle
June 9, 2010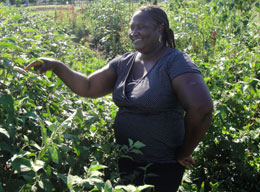 During the last decade, a large number of African refugees from the war-torn countries of Sudan and the Democratic Republic of Congo have settled in Sydney's western suburbs. For many, the transition into Australian life has not been easy.
Since 2004, Mamre Plains Ltd., a work of the Parramatta Sisters of Mercy, has been assisting African refugee families in their resettlement. One initiative that has made a positive impact on the families has been the African Refugee Farming project.
With support from Mercy Works Inc., the families are cultivating vegetable and fruit gardens at Mamre's 200-acre property in St Mary's.
While a certain amount of the produce is being consumed by the families, some of it is being sold to the public at local Farmers' Markets. Excess fruit and vegetables are also being developed into secondary products such as jams and preserves. This too is being sold to the public.
There are many positive outcomes from the African Refugee Farm project, but primarily, it is giving African refugee families access to fresh garden foods and developing their skills so they can earn an income and be more self-sufficient.