Archived News Item
Supporting people on the edges of life in PNG
June 15, 2011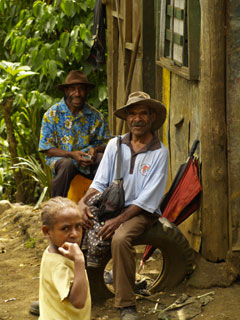 In Papua New Guinea's highlands, the Mercy Works Goroka and Mt Hagen programme is helping communities tackle troubling levels of poverty. One of the programme's guiding principles is to respond to all people without discrimination. The Bilum reports on some initiatives that are supporting people on the edges of life.
Outreach to Goroka settlements
Over the last 40 years, Goroka, like other large urban centres in PNG, has experienced an influx of people from rural areas and other provinces. The town's infrastructure has been unable to cope with this rapid migration of people resulting in squatter settlements on vacant public land, usually on the outskirts of town.
Poverty is rife in the settlements and major social problems, such as unemployment, drug use and violence, are widespread. Most people live in very basic and overcrowded housing with little or no access to water, electricity or sanitation.
"Growing up in a settlement is not an easy life," says Theresia Boyek RSM, a member of the Mercy Works Goroka team. "One has to work hard to survive, and learn how to make good choices and decisions which are essential and difficult every day."
Theresia and her colleagues visit many of Goroka's settlements regularly, offering support and training opportunities to people living there.
For 25-year-old Daniel, who has lived in the Piswara Settlement since childhood, connecting with Mercy Works has been life-changing. Like so many of his peers, Daniel's education ended at an early age because his parents were unable to pay his school fees. Finishing school in Grade 8 has limited his opportunities to get work and support himself.
"Daniel attended some basic training [with Mercy Works] on budgeting, human rights and other basic skills to improve and manage his time and life," explains Theresia.
She says this training, especially in budgeting, has helped Daniel to begin his own small business selling cigarettes and betel nut in the settlement.
"The results were good and he was getting confident on the progress each day. It was a real challenge for him because he had never done this before in his life. Now he sees life in a different perspective in making his own decisions independently," says Theresia.
Since then, Daniel has built a small canteen and is selling a broader range of goods. Theresia reports that Daniel's business venture is "only a start". "He will take care of it," she says. "He is very serious to work harder than ever before."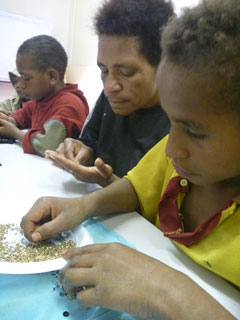 Supporting vulnerable children
In PNG culture, the concept of street children is not a familiar one. Traditionally, children have always remained in the care of immediate or extended family in the village. However, with rapid urbanisation and the erosion of traditional cultural beliefs and practices, increasing numbers of children are leaving their villages to work or live on the streets of towns.
According to Rachael Waisman RSM, a member of the Mercy Works Mt Hagen team, children are leaving their villages for a variety of reasons. Some children have been rejected by their families, while others are forced to leave because of poverty or abuse in the village. They move to large towns like Mt Hagen, usually to relatives or 'wantoks' (relatives or members of their clan) in the hope that life will be better. But after arriving, they often find this is not so.
In Mt Hagen there is a group of 'street children' known as "the taxi boys". Aged between seven and 14 years, these boys spend their days carrying heavy bags of food and other supplies from cars and transport vehicles to the main shopping market, charging a small fee for their service.
Concerned for this vulnerable group of boys, the team at Mercy Works Mt Hagen has been providing them with personal support and training opportunities.
Twice a week the boys visit the Mercy Works' drop-in centre and participate in a range of training sessions on topics as diverse as basic literacy and numeracy, health and hygiene, human rights and budgeting. After these activities, the boys are given a nutritious meal which they also help to cook. As part of the budgeting workshop, each boy learns how to manage the little money he earns and is encouraged to open a bank account.
Rachael believes the boys have responded well to the training opportunities. "There has been a noticeable change in the boys' behaviour and attitude," she says.
She also says the boys are grateful for the support and encouragement they receive from Mercy Works.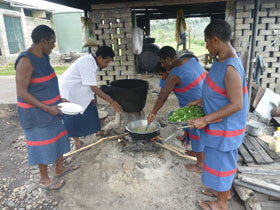 Supporting people in prison
Rapid urbanisation in towns like Goroka and Mt Hagen has contributed to a significant rise in crime, violence, drug-related problems and other illegal activities. As a result, the number of people incarcerated has also increased.
Sisters of Mercy have a long history of visiting people in prisons and this tradition of non-discriminatory care and support continues through the Mercy Works Goroka and Mt Hagen programme.
Twice each week Mercy Works' team members visit both the women's and men's prisons near Goroka and Mt Hagen. Interestingly, both the inmates and staff of these facilities appreciate this interaction and are keen for it to continue.
During the visits, team members offer a range of training and awareness-raising activities to help the inmates in their rehabilitation process and to equip them to deal with life after they are released.
Workshops offered include basic literacy, health education, human rights awareness, anger management and communication skills. Inmates also engage in handicraft, cooking and sporting activities.
Once inmates are released from prison, Mercy Works continues to offer individual support and skills-training opportunities.
For Mariska Kua RSM, Director of Mercy Works Goroka and Mt Hagen, providing this kind of support for men and women, both in prison and when they leave, is vital because it can significantly reduce the likelihood of repeat offences.