Archived News Item
Supporting minority groups in Pakistan
February 7, 2008
Sisters of Mercy of the Australian Institute have been working in Pakistan since 1985. Find out about their work with minority groups in Rawalpindi and Karachi.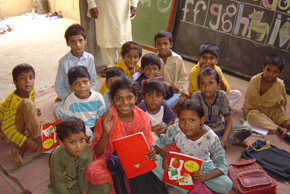 Mughalabad is a settlement of about 450 Christian families on the outskirts of Rawalpindi in northern Pakistan, near the capital Islamabad. The people living here eke out an existence in low paid work within the municipality, sweeping roads, cleaning public toilets and drains. Their housing is basic and overcrowded. While there are some facilities such as gas and electricity, water must be accessed elsewhere. For these families, education doesn't rate highly; basic survival is their priority.
Even though St Joseph's Primary School has been operating on the settlement for some years, enrolments have been low and attendance poor. In late 2006, Mercy Works Inc. funded a Project Co-ordinator to find out why this was the case.
Anila Isaac, a Pakistani Sister of Mercy with a background in teacher education, consulted the Diocesan Education Board and liaised with students and teachers from St Joseph's and families in the Mughalabad settlement. While financial constraints were
identified as a barrier for parents in not sending their children to school, Anila also discovered that the structure of classes was not appropriate for the students. Teaching
methods lacked creativity, resulting in disinterested students, disruptive behaviour and non-attendance.
In addressing these problems, Anila explains that the school has been restructured. Multi-grade classes have been established to maximise student learning and teachers have been given training and support.
Anila believes that the children are showing a greater interest in attending school and learning. "They are playing and look happier," she Supporting education initiatives among minority groups says. "The enrolment of the school has gone up and the challenge is now to keep it stable."
Meanwhile, in Pakistan's south in Baldia Town on the fringes of Karachi, Mercy Works Inc. has been supporting another education programme among a minority group of people known as haris or Hindu peasants. These people have never had permanent housing and live in slum communities or busti in tent-like shelters made from tree branches and rags. Some are bonded labourers, but often men are unemployed, while women and children resort to begging.
"We've had many Mercy Sisters and other Australians visit Baldia and comment that never ever have they seen such poverty. These really are a people that no one else wants to do anything about," says Margaret Madden, a Sister of Mercy of the Brisbane Congregation and Director of the Notre Dame Institute of Education (NDIE) in Karachi.
"The people belong to the 'untouchables' caste and the children are not wanted at the local Government schools."
The education programme, run by Mercy Education Service (the Sisters of Mercy and NDIE staff), provides a sound educative and non-discriminatory environment for children of various castes, creeds and cultures. Two schools function within the busti, a morning and an afternoon shift.
"Those who complete their primary schooling at our school are then admitted to the local parish secondary school", explains Margaret.
Over the nine years the programme has operated, the number of children attending school has grown. "While many of the girls still marry at about 12 years of age, they now have a basic education," says Margaret.
From initially paying no school fees, the children now pay a minimum monthly fee as parents increasingly recognise the value of a basic education and the possibilities
that it can open up for their children and future generations.
In 2006-2007, Mercy Works Inc. has helped to employ teachers and build up teaching resources, text books and library books for the busti schools in Baldia.
Photo: Kindergarten and Year 1 children at the busti school in Baldia, supported by Mercy Works
Mercy Works Inc. is the relief and development arm of the Institute of Sisters of Mercy of Australia. To read about other projects supported by Mercy Works Inc. visit their website and download their 2006-2007 Annual Report. If you'd like to make a donation please phone (02) 9564 1911 or visit the Mercy Works Inc. website.