Archived News Item
SUPPORTING EARLY LEARNING IN TIMOR-LESTE
August 7, 2015
Timor-Leste, as an emerging democracy faces many struggles to rebuild effective infrastructure to face the demands of the 21st century. Providing education facilities and the training of a sufficient pool of teachers to cater for one of the highest birth rates in the world is an ongoing problem. 40% of Timorese are under 14 and in rural areas more than half the population is under 19.
Sister of Mercy, Helen Nolen has been in Timor-Leste working as a teacher trainer since 2005. For a number of years Mercy Works has been developing programs in response to local needs. Our work is centred in the Diocese of Maliana. So far we have helped establish preschools in Fohorem, Datorua, Fatululik and Aiadabaslala and we are currently building a centre in Cailaco. These are all remote villages only accessible by dirt road. In the wet seasons, rains often cut off access to them completely.
The centres are part of the TaLiHa network. TaLiHa stands for Tau Lman Hamutuk which loosely translates as 'put your hands together'. It is an entirely local initiative with a network of centres in Dili and regions to the south and west of the capital.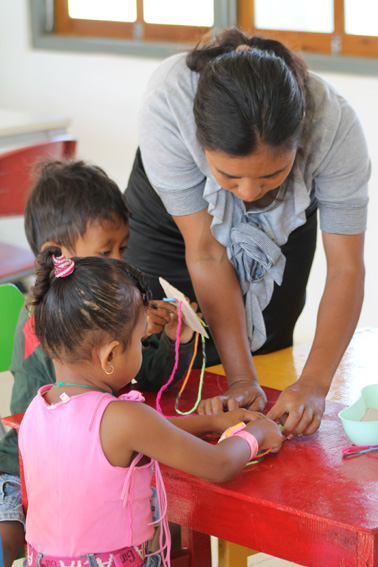 Mercy Works supports workshops in teaching methods and early childhood management in cluster groups for TaLiHa teachers and enrichment for teachers through peer support and visits to other TaLiHa schools for sharing of vision and methodologies of teaching and learning. This year has seen the introduction to the Montessori Education in various centres. Regional workshops have been held where teachers gain an understanding of the philosophy of Montessori education. The Montessori philosophy fits closely with the TaLiHa philosophy and several TaLiHa schools are already implementing aspects of Montessori methodologies.
To find out more about Mercy Works programs in PNG, Timor-Leste and Australia visit www.mercyworks.org.au
Messages to: Helen Nolen rsm
Mercy Works