Archived News Item
Sudan: "You must work with a broken heart"
December 6, 2007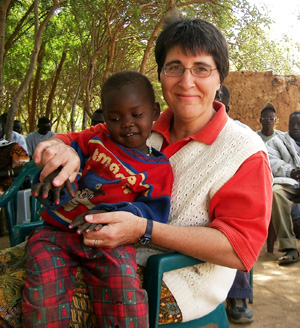 When Melbourne Sister of Mercy Cathy Solano (pictured right with Daniella) began work in early 2005 as Education Co-ordinator for the Diocese of El Obeid in central Sudan, she embarked on a journey that would affect her profoundly. Based in the Nuba Mountains, an area that has been traumatised by a 21-year civil war, she experienced an "overwhelming and exhausting frustration" and "many black periods of doubt". But accompanying these emotions was "an anger fuelled by hope". In October 2007, as she was finishing up in her role, Mercy Works Inc., the relief and development arm of the Institute of Sisters of Mercy of Australia, invited Cathy to reflect on her time in Sudan.
"You must be courageous" and "you must work with a broken heart". These two pieces of advice I heard recently have helped me to make sense of the range of experiences and emotions I have encountered during my two and a half years in the Nuba Mountains.
I want to focus mostly on the second and ask: what has broken my heart? Frustration was the predominant emotion. It was an overwhelming and exhausting frustration brought about by the hundreds of things that went wrong and shouldn't have gone wrong; the people who should've given a damn but didn't and still don't; and the historical, cultural and religious aspects of this part of the world that continue to oppress minorities, especially women and blacks.
The song "Endless Night" from The Lion King has become one of my favourite songs. It expresses frustration and the depths of despair:
Where has the starlight gone? Dark is the day…
When will the dawning break o endless night?
You'd promised you'd be there whenever I needed you.
Whenever I call your name you're not anywhere.
I'm trying to hold on just wanting to hear your voice.
One word, just a word will do to end this nightmare.
Underneath the pervasive frustration I felt, lay an anger fuelled by hope. This anger energised and sustained me through many black periods of doubt; it kept me working rather than giving in and going home in despair. I wrestled with myself: "Go home. Stay, no, go!" I got to know the people. I got a glimpse into their suffering. They deserved something better. They begged for something positive. They yearn for an education and a hopeful future for their children. That was enough to break my heart.
FRUSTRATION HAS SHOWED ITSELF…
in some cultural norms…
Driving alone after a trip to Kharga Primary School, I saw that the road ahead leading down the mountain was blocked by a gang of youths. Forced to stop, I was ordered to take them to the clinic. I had not seen that they were carrying a young man curled up in a foetal position on an angreb (a locally made wooden-framed bed), wracked with pain. Later, I learned he was the brother of one of the teachers at Kharga. The next day I heard he died because his insides had been eaten by worms. This condition could have been treated with tablets. Local culture dictated that he should go to the witch-doctor and be treated with the "magic herbs" he sells.
in the consequences of war and oppression…
One of my hardest experiences occurred recently. We had just lost three teachers and were desperate to find more. Two locally trained teachers in their mid-twenties were recruited. They had done a nine-month teacher training course through one of the nearby non-government organisations (NGOs). During the interview I found they had only completed P6 in one of our Diocese of El Obeid primary schools. They had not completed their education because they went to Khartoum to work as builders to make some quick money. As part of the interview I gave them a few questions from the 2006 P6 exam. Unfortunately, they did not answer satisfactorily. They were embarrassed. They could only teach in the lower primary classes, yet they insisted they should teach P5 to P7! This, together with their excessive demands for food allowances, accommodation and transport, made it a very difficult situation. It ended up at the local court. Their anger was explosive. I suspected it contained the frustration of years of having their lives "ruined" by war, and further complicated by other elements such as "oppression by colonialists". Steve Biko said: "am I good enough?… it's hard not to believe there's something inferior about being born black."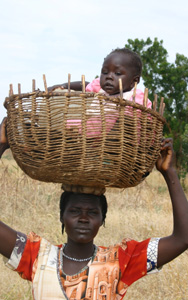 Families in the Nuba, as in other parts of Sudan, still face the trauma of sons or daughters "going missing". Raids by Arab militia were common during the war. Many children were taken as slaves and treated worse than animals. The comprehensive peace agreement signed between the Sudanese Peoples' Liberation Army (SPLA) and the Khartoum government does not mean these abuses have stopped.
Other experiences and stories I could tell highlight the automatic response of violence and aggression when conflict arises; the resigned acceptance of death, especially of children, because of malaria, diarrhoea and other preventable diseases; the very frequent situation when the sick are carried on foot for miles to a clinic only to find there is no doctor, nurse or medicines; and the women who die in childbirth because they have waited too long before going to the clinic.
"Endless Night" also screams out a stubborn hopefulness that is so real in many parts of Africa:
I know, I know the sun will rise.
Yes, I know, I know the clouds must clear.
I know that the night must end.
I know that the sun will rise.
And I hear your voice deep inside.
The Nuba people helped me persevere. They pushed and pulled, supported and drew me on. It was for them that I kept trying to make a difference, but not only for their sake, for mine, too.
SMALL MIRACLES
I have been privileged to witness a number of small miracles in the past couple of years – where I have seen the "sun rise".
History was made on August 3, 2007 when the first group of students, 8 females and 13 males, participated in the first ever primary graduation ceremony in the "chapel" at St John's Primary School, Kharga. These students, aged between 17 and 23, overcame great difficulties to achieve this milestone. They began their primary education in 1999 despite being nearest the border where the SPLA and the Khartoum army fought many battles. The first classroom was under the trees and students sat on the flattest rocks they could find. Their "teachers" were a couple of local catechists, whose English was better than most, because they had been to school for a few years before the war started in the 1980s. They had no textbooks and no teaching resources.
The Kharga Christian community is an inspiring and faith-filled group who openly support each other. At the graduation, the community publicly acknowledged the special efforts of Zachariah Noah, the Head Teacher from 1995 to 2006. I will never forget my first meeting with Zachariah. As the new Diocesan Education Co-ordinator I wanted to meet all the staff and see all the schools. His first statement to me was: "Sister, if you are going to be like the other three Co-ordinators we have had then we don't want you!" I was very tearful and humbled at the graduation when Zachariah thanked me for the support and help I had given to the school community for the previous two years. It meant so much.
A NEW SECONDARY SCHOOL AND HOSTEL FOR GIRLS
I have met many generous, hard-working and inspiring people in Sudan. The ones who stand out are those who are part of Sorriso Per Il Sudan, an Italian NGO. In the last six months they have built a new secondary school in Gidel. To see it nestled at the foot of the mountains of Gidel is an incredible miracle! It is a dream come true for me and the 200 or so students who will be studying there from January 2008.
Through Mercy Works Inc. and many generous Australian donors, I have been able to oversee the building of a 30-bed girl's hostel on the site of the new secondary school. Without the possibility of boarding, more than 65 per cent of the girls would not be able to continue with their secondary education.
In 2007, we had an enrolment of 26 girls (in S1 and S2) and in 2008, we expect another 16 to 20 girls. The hostel is already too small but I know the young women will squeeze two or three to a bed because they are keen to go as far as possible with their education. These young women have shown great courage in resisting the strong cultural pressure to marry and produce children by the age of 14 or 15. I believe they will go on to contribute in valuable ways as future leaders, teachers, nurses and doctors. Such investment in "people development" is the most effective way of helping to rebuild communities after long wars and disasters have destroyed so much.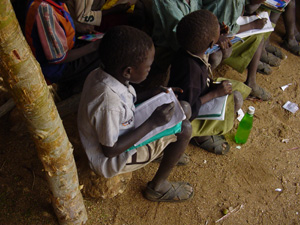 Other miracles I have witnessed are seeing the first group of 12 girls enrol for secondary education in January 2006; celebrating graduation ceremonies at three different primary schools for those successfully completing their education for the first time since the war ended; working with new teachers who genuinely care for their students; delighting in the pre-unit children who now love coming to school because they are not just learning by rote; being welcomed into the community of the Comboni Sisters; knowing Mercy sisters and staff and students and associates and family and friends – and their interest and concern and generosity and personal support.
For over 20 years, the Nuba Mountains and her peoples were caught in the middle of the conflict between the north and south. Now, during the interim peace agreement, the Nuba Mountains still suffers because it is forgotten, or better, ignored, by both sides. NGOs are operating to provide services in the south and the Khartoum Government looks after its own in the north, but many NGOs and humanitarian organisations are unwilling to assist in the post-war development of the Nuba Mountains. The Diocese of El Obeid and a few small organisations are the exception. Unfortunately, it is usually only war or a big disaster that captures the world's attention and compassion for those who are needy and suffering.
However, despite the great needs which will take years to redress, the following prayer speaks of the situation and people in the Nuba:
Creator of all, look down on your people in their moments of
need, for you alone are the source of our peace. Bring us to
the dignity which distinguishes the poor in spirit and show
us how great is the call to serve, that we may share in the
peace of Christ who offered his life in the service of all.
Yes, I have worked with a broken heart in Sudan. I am glad that it has been broken open in many different ways. I have often been angry and frustrated but I know this will not remain in my memory. I have received much love and acceptance from others, and hope I have been able to give love in return. In the end that is all that really matters in life, isn't it?
Photo credits: Nicole Rotaru RSM and Cathy Solano RSM
To read about other projects supported by Mercy Works Inc. visit their website and download their 2006-2007 Annual Report. If you'd like to make a donation please phone (02) 9564 1911 or visit the Mercy Works Inc. website.