Archived News Item
Successful refugee project closes
December 9, 2008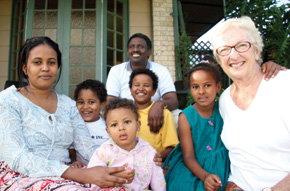 After nearly ten years of providing vital support for newly arrived refugees in Australia, Mercy Works' Community Links Project has closed.
The Board of Mercy Works made the decision in June after receiving notice from the Federal Government's Department of Immigration and Citizenship (DIAC) that funding for the project had been significantly reduced.
"It was with great regret that the Board took the decision to decline the grant offered by DIAC for the Community Links Project," says Sister Mary Duffy, Chair of the Board.
The Community Links Project was established in Sydney in 1999 with funding from DIAC. Since then, the project has recruited, trained and supported 371 volunteers who have provided 458 newly arrived refugees with much-needed practical assistance and enabled them to operate more confidently and independently in their new community.
So highly regarded was the project, that in 2006, the Federal Government invited Mercy Works to extend Community Links to Wollongong.
Explaining the rationale for the Board's decision, Mary said, "With the withdrawal of funding by DIAC for the Wollongong project, together with the reduction in funding and tenure for the Sydney project, the Board acknowledged that the agency was not in a position to attract suitable staff and funds to continue this project.
"However, we are delighted to continue our work with refugees and their families through the Classroom Connect Project, and we are seeking to develop other avenues whereby we can continue the tradition of Mercy Works in offering supportive relationships with those newly arrived in our land."
Utilising the skills and experience of trained volunteers, Classroom Connect provides intensive academic support and mentoring to refugee students at secondary school level.