Archived News Item
STUDENTS SPEAK OUT ON HOMELESSNESS
July 3, 2015
"On Census night 2011 there were 105,237 people experiencing homelessness, with 45,813 or 44% of these women " (Homelessness Australia)
Stephanie Salvatore reckons women's homelessness is a bit of a taboo subject, one most people find uncomfortable and prefer not to discuss. She's having none of that! Instead she wants it to become part of our community's conversation and action.
Stephanie, and Steph Rutter, both Year 12 students at Our Lady of Mercy College (OLMC) in Heidelberg, along with the Year 12 social justice team, have certainly put family violence and women's homelessness on the social justice agenda at their school as part of a partnership project with McAuley Community Services for Women.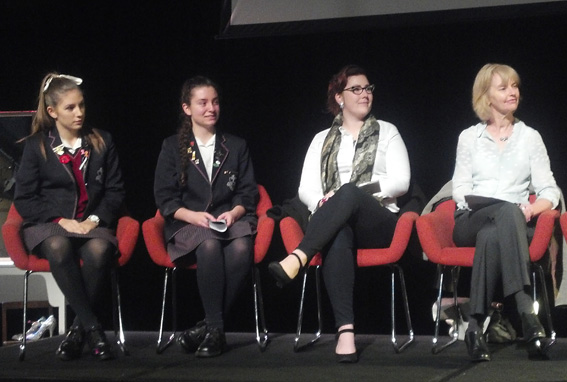 The project, called No Place Called Home, was funded through a $5,000 Lord Mayor's grant and has produced a 'how to' template and a brief video clip on family violence and homelessness awareness raising and fundraising that could be used by other schools.
No Place Called Home explored the implications of family violence and homelessness by first raising awareness throughout the school. This awareness-raising campaign, called look up look down, involved the creative design and placement around the school and gates of posters and material featuring information, case studies and statistics. Look up look down was followed by fundraising through a sponsored community breakfast in early June.
Steph Rutter, Faith and Justice Captain at OLMC said the media coverage about violence against women didn't tell the full story that for some women and their children homelessness is seen as the only option to escape violence. The awareness raising campaign as well as guest speakers at the breakfast, including McAuley Community Services for Women CEO Jocelyn Bignold, helped paint the real story of family violence.
"The following day we held a PJ day at school that gave the students a small insight into what it might be like to experience a crisis situation where they would be forced to leave the comfort of their home in the middle of the night, wearing nothing but their pyjamas," Steph Rutter said.
Stephanie, who is the Vice Faith and Justice Captain, believes the project has had an impact beyond the school community as the breakfast gained excellent community support. "I believe the breakfast left an impact on the people that attended. I received a lot of feedback that the stories told the morning of the breakfast, 'moved people'. I think we confronted people with issues that take place within our community and it evoked a heartfelt response, encouraging people to support organisations alike to McAuley Community Services for Women," Stephanie said.
Steph and Stephanie set out to take people from their sometimes limited knowledge of family violence, to understanding the real life consequences for many women and children, especially homelessness. Having achieved that goal they are now keen to use the template and video clip to encourage other schools to find out more about family violence and to support McAuley Community Services for Women.
Messages to: Our Lady of Mercy College Heidelberg
McAuley Community Services for Women
Photo: OLMC Students Stephanie Salvatore and Steph Rutter with Lucy Prentice and Jocelyn Bignold from McAuley Community Services for Women.
Story source: MCSW