Archived News Item
Students eat potatoes and jog for Mercy Works Inc.
December 9, 2008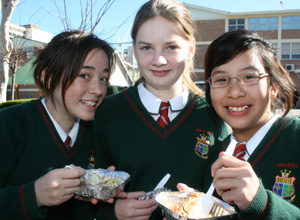 Congratulations to students at Mercedes College in Perth, who in recent months have organised a number of school events and raised more than $4,000 for Mercy Works!
Students hosted a potato lunch to highlight the 2008 International Year of the Potato. For a gold coin donation, students feasted on a potato with simple but tasty toppings. They also learnt about the worldwide significance of the potato – a cheap, nourishing food that is easily and quickly grown, and has the potential to make a real difference to world hunger.
The school's annual fun run, known affectionately as the 'Frog Jog' (in reference to the girls' green uniforms) also raised money for Mercy Works through individual sponsorship of each participant.
It's the hope of Lyn Barker, the school's Community Relations Officer, that through these action and education initiatives, the students learn something about themselves but also about the need to be involved actively in the welfare of others.