Archived News Item
Structural change to allow for flexibility
June 15, 2011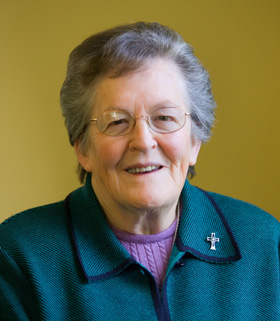 After many months of planning and negotiation, the Board of Mercy Works Inc. recently made the decision to change the legal status of the agency.
Since 2003, Mercy Works Inc. has operated as an association under the New South Wales Incorporation Act. The Board's recent decision means the agency will now operate as a company limited by guarantee under the Corporations Act (Cth).
According to Mary Duffy RSM (pictured), Chair of the Board, this structural change reflects more authentically the international and national flavour of Mercy Works and offers greater flexibility to expand and undertake a variety of works.
"During the past year there has been a significant growth in the number of programmes and projects seeking support from Mercy Works. Many of these reflect urgent needs in the lives of refugees, both here in Australia and overseas," says Mary.
"This change in structure will enable us to respond more directly to such requests."
While the programmes and support of Mercy Works will continue, Mary says there will be some changes within the agency's legal status.
"The Public Benevolent Institution Status which we now enjoy will enable potential donors to claim tax deductibility for a greater number of our programmes," says Mary.
"This will hopefully attract more donations and enable us to develop additional programmes and offer greater support for displaced persons and others in need."
Mercy Works Inc. will also be known officially as Mercy Works Ltd., but generally referred to as Mercy Works.
In June 2010, members of Mercy Works were advised about the transfer to the new company and automatically became "Friends of Mercy Works".
For current members to continue as "Friends of Mercy Works" they are invited to renew their subscriptions by June 30, 2011.
Friends of Mercy Works receive two copies of The Bilum each year and are invited to share in activities to support the agency's programmes in Australia and overseas.
"We are hopeful that, wherever possible, Friends of Mercy Works will initiate gatherings to learn more about our programmes and offer ongoing support through fundraising events, both small and large," says Mary.
If you are interested in becoming a Friend of Mercy Works, Phone: (02) 9564 1911 or Email us.