Archived News Item
STRONG MERCY CONNECTIONS
May 1, 2015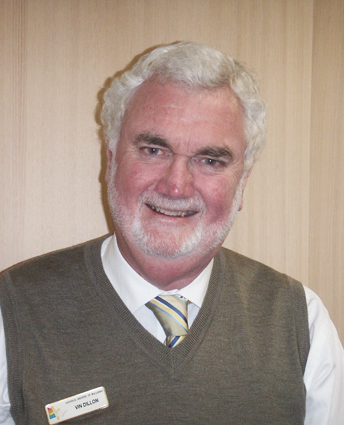 Since 2008 I have been a member of the Board of Damascus College Ballarat, the last two years as its chairperson.
I came to this role rather unexpectedly as I anticipated retiring from the Board in 2014 when the current term of my appointment expired. However due to the changed circumstances of the previous chairperson, meaning he could no longer continue, I was approached by the Governors of the College to take on the position. It has been a privilege to be chairperson particularly through an exciting time of development for the College.
I have spent most of my life living and working in the Ballarat Diocese. Born in 1951, for the first eighteen years of my life I lived in Ballarat North and was educated at St. Columba's Primary School, a school at that point fully staffed by the Sisters of Mercy. My secondary education was at St. Patrick's College, Ballarat. At the completion of my secondary schooling, I went to Corpus Christi College Werribee to study for the priesthood. The five years spent at the seminary were pivotal in my growth as a person and I made life-long friends many of whom I still remain in contact with. After leaving the Seminary I gained my teaching qualifications through LaTrobe University at Bundoora. These were the years of mass protests against Australia's involvement in the Vietnam War and LaTrobe was seen as a 'hot bed of radicalism'. In the first lecture I attended in Philosophy before a packed theatre of some four hundred students the lecturer proved comprehensively, so he claimed, that God did not exist. All this was a bit of an eye-opener for someone who to that point had existed in a conservative and somewhat sheltered rural Catholic environment!! I am pleased to say I retained my faith and was even offered an honours place in philosophy whilst arguing against much of the prevailing philosophies of the time.

During the final year of my undergraduate degree I married Sandra and over the years we have together raised a family of four children and now also have six grandchildren. Upon graduation from University, we spent twelve months in Papua New Guinea at Kanabea as part of the Melbourne Overseas Mission. My teaching career in the Diocese took us to Horsham, Maryborough and Mildura before returning to Ballarat as principal of St Thomas More School in Alfredton. In 1990 I joined the staff of the Ballarat Catholic Education Office where for the next fourteen years I worked as the Zone Educational Consultant in both the Ballarat and Horsham Zones. In 2005 I was appointed as the Head of Educational Services and Deputy Director of the Catholic Education Office.
After thirty plus years of involvement in Catholic Education I decided at the end of 2006, to conclude my time in Catholic Education and took up a Diocesan Appointment as Assistant to Bishop Peter Connors with responsibility for Pastoral Planning and Parish Leadership Formation and Support. Pastoral Planning in the Ballarat Diocese is quite a challenge. At one point the Diocese had approximately 100 priests involved in full-time ministry. In recent years that number has declined to less than forty, the majority of whom are men beyond sixty years of age. Over the same period the number of Catholics in the Diocese, identifying on the Census has risen from 74,000 to around 100,000. With these changing circumstances came the need for lay leadership. Four parishes are now led by coordinating teams of lay people who are responsible for all aspects of parish life. The sacramental ministry is provided by a Visiting Priest. In April 2012, with the imminent retirement of Bishop Peter, I entered the world of volunteering, grey-nomading and babysitting grandchildren. These activities alongside my involvement in the Wendouree parish and occasional work with other parishes seem to keep me fully occupied. The big difference is I have the choice as to when, where and how I expend my energies.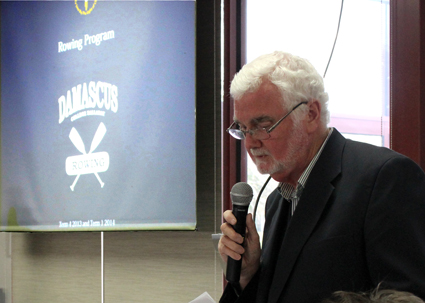 One constant through the years has been the presence of the Sisters of Mercy in my life. I am a product of a Mercy primary education. My mother, sisters and daughters were all educated at Sacred Heart College Ballarat East. A number of young women with whom I grew up with in Ballarat made the decision to enter religious life through the former Ballarat East congregation. I taught at St Paul's Primary School in Mildura with two Mercy sisters as my principals. As a teacher I benefitted from the professional development provided by a number of the Sisters who were inspiring theologians, scripture scholars and liturgists. While working in the Catholic Education and Diocesan offices I valued greatly the wisdom and expertise of Mercy colleagues. In more recent times during my time on the Board of Damascus College and now as its chairperson I have come to understand more deeply the Mercy charism and the vision of Catherine McAuley.
Each year Damascus College has a theme based upon a Scripture text. In 2014 the verse was "By God's mercy we have been given this work to do" (2 Cor 4:1). I do feel particularly blessed by the professional and personal work I have been asked to undertake to this point in my life.
Messages to: Vin Dillon