Archived News Item
Staff & Students Send Wraps With Love
August 9, 2011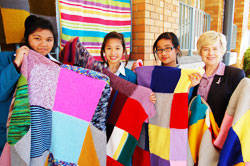 Monday, 9 August 2011 – Staff and students at Catherine McAuley Westmead have again been busy knitting colourful wraps as part of Wrap With Love, a non profit organisation which sends woollen wraps made by volunteers to communities all around the world. This is the sixth year the school has been involved with students, teachers, parents and grandparents all busy knitting the squares needed to make the wraps.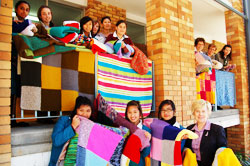 Science Coordinator, Mrs Sue O'Connell, who organises the school-wide initiative, says this year 756 squares were knitted which were then made into 27 wraps. "Being involved with Wrap With Love very much fits with the school's commitment to social justice and is also a great activity which we can do together as a community", she says. "Our teachers particularly enjoyed the knitting session at our recent Staff Spirituality Day and it has in fact started a number of staff members on the pathway to becoming lifelong knitters. It is also wonderful that so many mothers and grandmothers have been able to do this activity together with their daughters".
The school presented their wraps earlier this month to ABC Radio's Sydney 'Knit In' which took place on Friday 5 August. However it doesn't stop there for the school with knitting continuing ready for next year's wraps. "We continue all year round", says Mrs O'Connell.
For further information please contact:
Jacqui Hamilton
School Development Officer
Catherine McAuley Westmead
Ph: 9849 9129
Mobile: 0405 654 970