Archived News Item
St Aloysius North Melbourne launches "Project Mercy"
June 9, 2010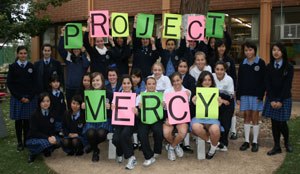 WORDS BY Cathy Solano RSM
In the reception area of St Aloysius College in North Melbourne is a stark, black and white drawing of a malnourished child on its mother's hip. It is the work of former Year 12 art student, Lizzie Mai. The caption reads: "So I turn my back without giving it a second thought".
Turning their backs on the desperate cries for help in our world is definitely not the response of St Aloysius College. To counter such an attitude, the school has launched a new initiative called "Project Mercy".
According to Anne Henderson, St Aloysius' Deputy Principal, Project Mercy is an "effort to raise consciousness in our community of what it really means to be a Mercy school and how to create real ways of being connected to the works of the Sisters of Mercy of Australia".
Like many schools, St Aloysius receives frequent requests for donations from a range of community organisations.
"The realisation that some of our past efforts have not had much meaning for students and that there is only so much that we can do, helped us decide to focus our energies on the mission and vision of our mercy charism," explains Anne.
For Lisa Leening, St Aloysius' Religious Education Co-ordinator, Project Mercy "is a practical application of the school's theme for the year, 'A Call to Mercy', and it is one of the ways our students can resonate with the life and work of Catherine McAuley".
St Aloysius College has a very active Student Leadership Team and Social Justice Group headed by Year 12 student, Linh Huynh, and co-ordinated by teacher, Angela Moore. During Lent, each class came up with their own idea about a fundraiser; one of the most innovative and successful was an Easter egg delivery service!
"We are really keen to raise money to support the works of Mercy because we know that the money is used to help reduce the suffering of the women, children and men who are living in poor conditions in our neighbouring countries," says Linh.
"We will continue to have fundraising events each year because we want to build an ongoing relationship and continue the connection with the projects associated with the sisters overseas."
Staff and students are now more involved in research about the activities of Mercy Works Inc. and are educating themselves about how they can give better expression to mercy in their own lives.